5th & 6th March 2016 - Bovington Stage Rally
Organisers: Bournemouth District Car Club
Venue: Bovington Tank Track, Dorset
Competitors: 93
Stages: 12 Stage Mileage 90
Overall position: 2nd Overall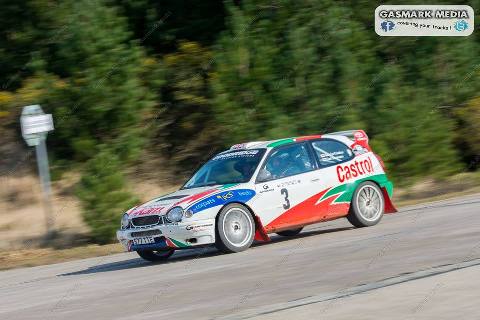 Picture Courtesy of Mark Chappell - Gasmark Media
The Toyota Rally Team ended their weekend on a high after finishing 2nd overall on the Bovington Stages Rally.
It didn't come easy though after battling against a strong 100 car entry made up of Impreza's, Evo's and other powerful rally cars. 'The Team have done a fantastic job this weekend and kept the car going to the end. We're absolutely delighted' said co-driver Carl Sorensen
It didn't come without it's challenges though with a 1st Stage near disaster. 'We were flat in 6th gear at about 125mph and Carl had called a 'flat left over crest - 150 into chicane'. We hit the brakes and the car just locked all 4 wheels' said Gary. 'somehow after various angles and looking out of both side windows we eventually came to a stop up against the chicane but luckily most of the speed had been scrubbed off. A quick spin round on the handbrake and they were back off in the right direction!'
Carl's language was a little more colourful after the incident and said something that rhymed with 'clucking bell'
The 1st day was made up of 8 special stages and after their early incident Gary and Carl were in 4th position overall. Their Toyota Corolla World Rally Car was really going well and after some suspension modifications the pairing were setting regular top 2 Stage times. Their day ended in joint 3rd overall.
The next day would see a further 6 stages, each one about 8 miles in length. Gary and Carl instantly got off to a flying start and moved up to 2nd position. 1st place was out of reach so maintaining 2nd would be their goal.
Going into the final stage the crew had what would be their final big moment of the day with a massive sideways slide at about 80mph. 'the tyres had completely gone off and I thought it was goodnight Vienna' said Carl.
The pair made it safely back to the pits and collected their 2nd place overall trophies at the awards ceremonies.
Gary and Carl will be out competing again on the Coronium Stages Rally in April.
Gary would like to thank their Service Crew Bill, Charlie, Rob and Scott for their extreme efforts and their sponsors for their continued support.
3rd May - Corinium Stages 2014
Organisers: Cirencester Car Club
Venue: Down Ampney, Gloucestershire
Competitors: 68
Stages: 8 Stage Mileage 52
Overall position: 1st Overall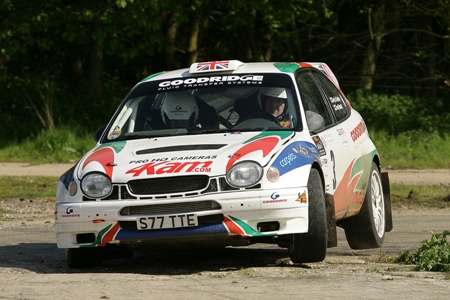 Picture Courtesy of EDP Photography
The Team returned to Down Ampney (probably one of Gary's favourite venues) to see if this year the Corinium Stages would be kinder to him than in previous! In 2012 Gary was in 2nd place behind Damien Cole and pressuring him hard when a driveshaft failed and then in 2013 a 'cat and mouse' situation developed with Triston Bailey's Mitsubishi who took top honours from Gary on the last stage by just three seconds!
So what would 2014 hold in store?!
Well, another strong entry headed this year by our regular rivals Martyn and Dawn England and Manx Champion Aaron Newby and Tom Woodburn. The event this year consisted of eight Special Stages covering 52 miles on the Co-Operative owned disused Airfield at Down Ampney. Every year there is speculation surrounding this venues closure so all the more reason to try and get a good result.
The Corolla got off to a good start on the event setting fastest time on SS1 by five seconds ahead of Aaron Newby in his Subaru Impreza closely followed by Martyn and Dawn Englands Mitsubishe Evo 9. The battle continued between them with Martyn pulling back two seconds on SS2 & SS3 and then a further five seconds on SS4. This meant that after SS4 Martyn and Gary were now tied on equal time with Aaron Newby only two seconds adrift. Sadly though, the Englands Mitsubishi was forced into early retirement after damaging the rear suspension and failed to start SS5.
Gary and co-driver Tony Bassett then set fastest times on the remaining four stages but only by a very small margin and eventually took the win by 11 seconds ahead of Aaron and co-driver Tom Woodburn. Third place went to Josh Payton and Marcus Mizen in a Ford Escort.
Gary would like to thank his Service Crew on the event Scott Barnes, Charlie Bole, Rob King and Bill Paynter for their extreme efforts and the Teams Sponsors Goodridge Fluid Transer Systems, 4Kam On Board Cameras, Acumen Promotions and PCS Furnishing Centre.
23rd March 2014 - Tour of Caerwent
Organisers: Forresters Car Club

Venue: MOD Training Camp - Caerwent, Wales

Competitors: 83 Stages: 6

Stage Mileage: 65

Overall position: 3rd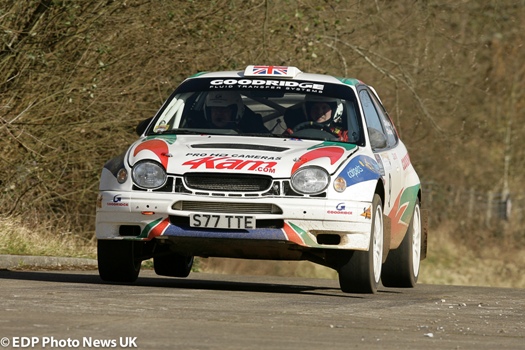 This was the 20th anniversary of the first 'Tour of Caerwent' run by Forresters Car Club following the MOD's decision to stop using the base as a munitions store in 1993. The event is part of the Welsh National Tarmacadam Championship, Cotswold Motor Group Stage Rally Championship and the GwynneSpeed Rally Challenge 2014.
Early morning, with damp conditions the road surface was extremely slippery especially on the perimeter roads having had very little usage since last years Patriot Stage Rally in September. SS1 didn't go too well with Gary struggling to cope with some handling issues and then taking a wrong turn into a cul de sac having to do a U-turn costing the Team approximately 15 seconds. Back into Service and some adjustments made from the Epynt settings the Corolla went back out and felt much more balanced and after a good clean run moved up to 7th place. Previous winner of the event Dave Willett in his Escort Mk2 wasn't having such issues and had already opened up a 24 second lead over Steve O'Leary in his Darrian T90. However, SS3 saw Gary set equal fastest stage time to Willett with the car really getting to grips with the tight and twisty stage. SS4 also saw Gary setting fastest time taking a second off Willett which moved them up to 5th place 10 seconds behind Richard Merriman in 3rd and still six seconds behind Martyn and Dawn England in their Mitsubishi Evo 9 in 4th position. SS5 the Penultimate Stage was the Corolla's best stage of the day again setting fastest stage time taking 20 seconds out of Merriman, 15 out of the Englands and 9 from Willett moving them up to 3rd place. With O'Leary too far ahead to challenge on the last stage Gary took a more cautious approach as Caerwent is notorious for taking many a car victim with all those kerbs but they still managed to set equal fastest time with O'Leary!
So, as you could say - 'A Good Day was had in the Office!' coming home 3rd overall and setting four fastest stage times out of the six. So without the mini excusion and handling issues on SS1, things may have proved to have been very different!!!
9th March 2014 - Tour of Epynt
Organisers: Port Talbot Motor Club
Venue: Epynt Military Ranges
Competitors: 110
Stages: 7
Stage Mileage 76 - Road Mileage 93
Overall position D.N.F.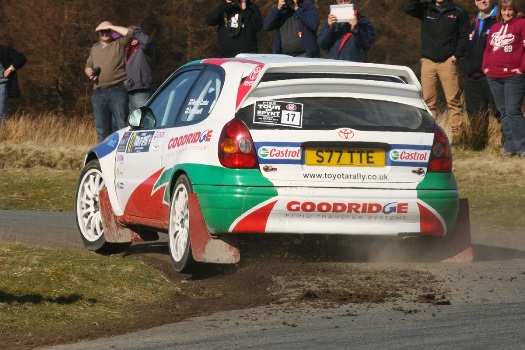 The Tour of Epynt is always the first round of the REIS MSA Asphalt Rally Championship and unlike last years arctic conditions with temperatures plummeting to -9° degrees, the conditions were almost tropical with glorious sunshine and NO RAIN! Saturday morning was spent making adjustments to the notes on the Recce and then off to Llandovery cattle market for scrutineering in the afternoon.
Since the Brean Stage Rally, the Corolla had undergone some suspension modifications and after a day in mid-Wales testing with Graham Middleton and adjusting the set-up, the cars handling had much improved.
Sunday got off to a steady start with Gary and new co-driver Tony Bassett getting to grips with the new set-up over the ranges. After SS2 with confidence growing and gaining momentum the Team had moved up to 15th overall when they came back into Service. Back out onto the ranges ready for SS3 when news came through of an accident involving Colin Price and Phil Cook in their Darrian T9 with both crew members being airlifted to hospital. So after a lengthy delay, the stages eventually went 'live' again but with the cancellation of SS4 whilst the incident was being investigated. Thankfully, both of the crew are making a good recovery. SS5 and SS6 saw the Corolla moving up to 11th overall setting a Top Ten time on SS6. No problems in Service and the crew headed off to complete the final stage SS7 but on the Road Section the Corolla stalled and they were unable to start her back up. Upon investigation when back in the workshop, it transpired that the crank shaft sensor had failed.
A frustrating end to what would have been the best result for the Corolla on the Epynt ranges. The event was won by Damien Cole and Elliot Edmondson in the Focus WRC 05 by one second after a very close fought battle with Peter Lloyd (Subaru S14) and Steve Simpson (Subaru S12).
25th- 26th January 2014 - Brean Stage Rally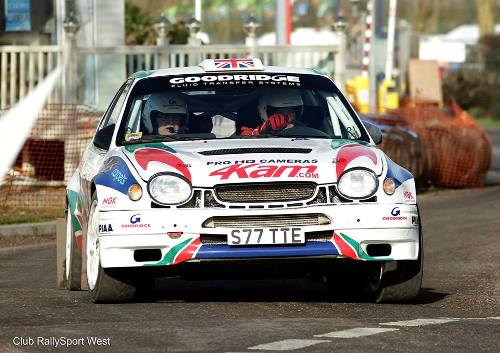 Organisers: Club Rally Sport West
Venue: Brean Leisure Park
Competitors: 100
Stages: 12 Stage Mileage 51
Overall position 4th
After the final event last year the Regency Stages, the Corolla was completely stripped out to be re-sprayed and have the suspension, driveshafts and diffs all rebuilt. But it's amazing how whenever you think there's always plenty of time to get everything done, with the Christmas festivities, time just seems to run away! So, the weeks prior to Brean saw Gary working almost continually getting everything back together and having to re-apply all of the many decals that the Corolla adorns! The new Sponsor Goodridge Fluid Transfer Systems are based in Exeter so it was arranged for the car to visit the factory prior to scrutineering in Weston-super-mare for the staff to view the car. Seemed like a good plan except due to lack of time, the Corolla still hadn't been road tested and the only movement since last year was from the workshop onto the trailer! So naturally the Team was very apprehensive and accepted that this Rally should be treated as a Test but thankfully, when the car was driven from scrutineering to Brean Leisure Park (Rally HQ) everything felt fine. With the Corolla wrapped up in her all weather cover the Team headed home ready to commence battle the following day.
This was the first event that co-driver Tony Bassett had sat alongside Gary so naturally everybody was feeling the pressure. With the car seeded No. 5 surrounded by Subaru WRC's, taking everything into consideration, they decided to take a cautious approach in the very damp and slippery conditions. SS1 and SS2 caused alot of problems for many of the competitors with the overnight standing water and grease on the tarmac, Gary & Tony were surprised to find themselves 3rd overall. The car was handling well and so Gary continued with the same tyre choice and played a little with the settings. The remaining four stages of the day went without drama and the Corolla came into Park Ferme sitting 4th overall only 2 seconds ahead of Steve & Yvonne Furzeland's Subaru S12. The top three positions overnight were Peter Lloyd (Subaru S14) followed by Rob Swann and Aaron Newby. Sunday brought a new meaning to the words 'wet & windy'. Alot of heavy overnight rain had left the stages waterlogged so an obvious tyre choice was 'wets'. This under normal circumstances would have been perfect except the Corolla had other ideas. The handling was atrocious and Gary just couldn't put the power down without the risk of losing the back end. Having struggled all morning to get the set-up right after SS10 the Corolla was lying 5th overall being hotly persued by Rob Swan so Gary decided to revert back to Saturdays choice of tyres and settings. Thankfully this was affective and they improved their stage times and the Team managed to move back up the leader board and finished the rally after SS12 4th overall 8 seconds ahead of Rob Swann. The rally was won for the seventh time by Peter Lloyd and co-driver Carl Sorrenson.
Thanks go to our Service Crew, Rob, Bill and Charlie who worked tirelessly in extreme weather conditions and certainly deserved a beer or two! Also our Sponsors without whose help we wouldn't be able to compete at this level and Tony for doing a good job on the notes and settling into the Team so well.
**********************************
12th October 2013 - Regency Stages Rally
Organisers: Weston Super Mare Motor Club

Venue: Bath & West Showground

Competitors: 66 Stages: 8

Stage Mileage: 45

Overall position: 1st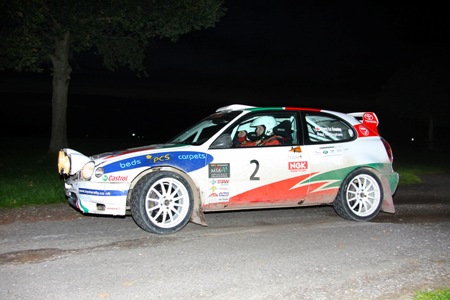 It was nice to be heading back to Shepton Mallet for this years Regency Stages, we finished 3rd overall on its first running two years ago but missed last years event with an early engine rebuild.
The first stage kicked off at 10am with Martyn and Dawn England heading the 66 strong entry with us seeded just behind. We had chosen a Pirelli Inter as the stage was still wet from morning rain. There's little grip at this venue as the roads used are really paths and see no traffic other than farm animals and machinery. Our choice of rubber was therefore a gamble but was to turn out to be spot on, in just four miles we emerged 18 seconds quicker than the nearest car, Oliver and Philip Hopkins in their Mitsubishi Evo 6, one second slower was Martyn and Dawn in their Evo 9, matched by Josh Payton in his quick Mk11 Escort. Gary had driven a perfect stage in tough conditions, the tyres, settings, and driver all working in harmony.
The next stage was a repeat and again we were quickest by 12 seconds to Martyn England who had nipped into 2nd, with Josh Payton just behind the Hopkins pairing now all separated by 3 seconds. We had a 31 second lead after just 8 miles but sad news soon filtered through that a later car had left the stage and had hit some spectators. The stage was immediately cancelled and all times scraped whilst the organisers dealt with the incident.
It was a case of déjà vie as I retrieved my blue book with the page still open at the correct page from Caerwent two weeks ago, however this was slightly different circumstances and after the organisers had decided to stick to the stage being cancelled we agreed to respect their decision and not contest the cancellation.
After a very lengthy delay whilst the Health and Safety people were satisfying themselves it was okay to continue we headed out to Stage Start now running first on the road as car 1 had discovered a broken manifold and retired. The stages were also shortened slightly to avoid the corner where the incident took place but this didn't affect the stage variations. This next pair now at just under four miles each saw us on slicks for the first time as it was now mid-afternoon and the stages had well and truly dried out in the delay. We were trying Hankooks for the first time and the car felt very different but we still set fastest time by 8 seconds.
Stages 5 and 6 saw the tyres working better as they started to wear but we just couldn't lean on them like we can with the Pirellis. Two more fastest time though saw us with a healthy 42 second lead, but you can never count your chickens till it's over as the last pair were longer, reversed, and in darkness.
With the light pod bolted on we blasted off into the evening and straight away was confused with the layout as we tried to turn into a road between two buildings, after a few seconds and some frantic shouting and pointing we were quickly on our way again, with the drivers concentration now broken it was a difficult stage but we emerged unscathed and in the knowledge we had time in hand. Josh Payton clawed back 7 seconds, with Graham Middleton second fastest showing he has not lost any of his talent jumping up 3 places into 5th overall.
Into the final test with a comfy 35 second margin all we had to do was drive sensible through the stage and we would emerge victors. Rallying is a funny game and always springs up surprises and this was to be no exception and certainly not one we wish to repeat. After competing in over 200 stage rallies, 60 with Gary we had a rallying first. About a mile into the stage after exiting a fast corner setting ourselves up for a hairpin left through a gate we met a vehicle coming the other way up the stage. A minibus had managed to find its way into and access road we were using; I'm not sure who was more surprised, us or the other driver being blinded by the Corollas light pod. Thankfully he obviously saw us coming and slowed as we just managed to avoid hitting the bus or the large gate post. Unsure what to do we carried on knowing there were plenty of marshals at that point, hoping they could stop them before the next car entered the stage a minute behind. You can imagine the conversation we were having in the car and as we headed round for our second lap thankfully the marshals had indeed stopped the minibus now parked on a grass verge with about 15 bemused faces peering out the windows now being forced to spectate.
We finished the stage in disbelief of what had just happened and we'd obviously dropped time but only eight seconds which was enough to still give us the win, thankfully we had done all the hard work in that opening stage.
What a fantastic way to end the season but it wasn't without its dramas!
Paul Hollingham
*****************************
29th September 2013 - Patriot Stage Rally
Organisers: Forresters Car Club

Venue: MOD Training Camp - Caerwent, Wales

Competitors: 100 Stages: 6

Stage Mileage: 66

Overall position: 6th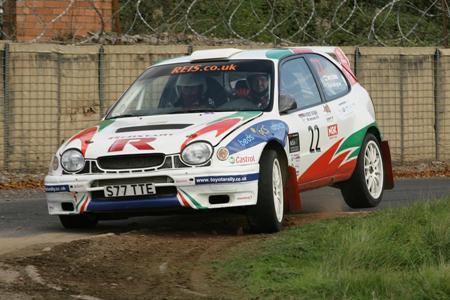 Picture courtesy of EDP Photography
After our previous non finishes on the last two rounds of the REIS Asphalt Championship we were keen to make amends and at least finish the this round at Caerwent. This is a venue which both Gary and I enjoy and suits the car well and we were hoping for a good result, but we didn't get a good start we were hoping for and had a spin within a mile of the start. The venue is a huge army camp with a maze of roads that enables the organisers to run six, eleven miles stages with no split junctions, with each stage containing on average around 90 junctions. For once it was dry so onto soft slicks for the first morning stage, and straight from the off Gary was on a mission, the handling felt okay but the Corolla was moving about under hard braking as we explored the grip levels. Unfortunately about a mile in, a small bump upset the Toyota whilst braking hard for a 'T' junction and the Rear End got away and we spun into the Junction collecting a small brick pillar on the way which we hit with the rear wheel as it came round. This immediately stopped the car as we scattered broken bits of brick all over the road. It felt and sounded really bad and I was convinced we had taken the wheel off or at least broken the suspension but amazingly Gary managed to turn the car round and after a few seconds wasted ensuring the car behind wasn't coming we carried on into the Stage expecting the car to be unbalanced, but testament to the Corolla's strength all seemed fine and amazingly the tyre was still inflated. We finished the stage in 15th place and estimated that we'd lost around 25 seconds which would have been good enough for 6th.
In Service no one could believe that the tyre has stayed inflated, as a four inch part of the rim was missing along with a spoke and another broken. Luck was on our side for once and after a full inspection of the suspension all that was found was a crack in the hub, nothing we could do about that except hope it would last the rally so off we went to SS2.
No errors here and we actually caught and passed James Harvey who had started ahead of us, but felt the tyres going off towards the end. We had gone 40 seconds quicker than our SS1 time so back to Service for a change of rubber and see if we had improved on our position. We found we had jumped up into 9th overall, a big reward for a driver that had pushed really hard. Some small changes were made to the set up and harder compound tyres bolted on we headed back out. SS3 had seen a good clean run setting eighth quickest time but the Toyota was pushing on in the corners with under steer. Some small tweaks to the setting would cure this for the next stage. We were now in eight place and catching the car in front so a big push on SS4 was needed. Realistically 7th would be the best we could do and unlikely to catch 6th placed man and class rival John Stone in his Skoda Fabia WRC.
The Corolla was now handling better than ever as we set 7th quickest time and had taken 8 seconds from Ian Kenvin ahead with us now only 5 seconds apart. However further behind in the stage James Harvey had hit a large rock in the quarry road, knocked his front left wheel off and had blocked the stage so that no one could pass. The Stage had been stopped and because of the time it took to remove him the stage got cancelled. The Organisers decided to cancel all the times through so all our hard work had been undone. At the front of the event Peter Lloyd had just lost his lead to Paul Bird with a puncture in this Stage, but with the cancellation would see him still leading. Fifth placed Dave Willet had also punctured losing four minutes which meant without the cancellation we would have been moved up another place. This is where we co-drivers earn our crust and out came the Blue Book with several crews not happy with the decision to cancel all the times, we felt it better if a notional time was given to those who had not been able to complete the stage. We headed into SS5 not knowing the outcome of our plea, so we decided to act as though it would be cancelled and try again to catch those in front. We pushed the settings further forward than we have ever done before and pushed the Toyota really hard. Wow what a stage we had found a massive 15 seconds, we set fifth fastest time and took 26 seconds from Ian Kenvin !!.The best news was that the Organisers had reversed their decision and our times for SS4 were given so we then went into the last stage in 6th overall. Another good time was set and we emerged this final Stage as we started in 6th overall and 5th Championship contender.
Paul Hollingham
**************************************
8th September 2013 - Prima Motorsport Stages
Organisers: Bournemouth Disctrict Car Club
Venue: Smeatharpe
Competitors: 54
Stages: 10
Overall position: 2nd

Gary and Paul brought the Corolla WRC home to 2nd overall at the Prima Motorsport Stages which was held at Upottery Airfield in Smeatharpe.

Following their recent run of bad luck The Team were very pleased with the result as this followed two retirements one at Otterburn and the other Epynt. The Event was a round of the ASWMC Sealed Stage Championship and covered a distance of approx. 45 miles and was supported by 54 crews from around the UK.

The event was won by Steve and Yvonne Furzeland from Plymouth in their Subaru WRC S12, thirty two seconds ahead of the Corolla with third place going to Martyn & Dawn England in their Mitsubishi Evo 9.
The event started with The Furzelands taking the immediate lead with their more modern machinery and it was clear from an early stage that Gary's main aim of the rally would be to try and hold off the Mitsubishi of Martyn & Dawn England.
The Toyota took a one second advantage from them on SS1 which was immediately retaken back by Martyn on SS2. The next two stages saw Gary move six seconds ahead but then they set joint times on three of the remaining six before the Corolla finally pulled away and gained a 15 second advantage over the Mitsubishi.

Gary would like to thank his Service Crew Rob, Bill and Charlie for all their hard work on keeping the car going throughout the day. Also, special thanks to Neil Jones whose Chard based Engineering company Redstart Design quickly designed and manufactured some new parts for the Corolla that were successfully used on the event.
*******************************
25th August 2013 - Event Signs Mewla Rally
Organisers: Epynt Motor Club
Venue: Epynt Sennybridge Ranges
Competitors: 104
Stages: 11
Overall position: D.N.F.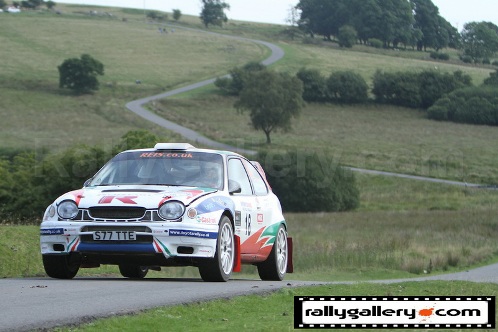 After our woes of Otterburn two weeks ago, our main objective for the weekend was to make sure the Corolla was handling correctly and that all the repairs and geometry were back into order. Friday afternoon was spent setting the car up, however it was raining so the road testing was done with a soft setting and wets tyres. The car felt good on the road but as we all know this is not done at rally speeds or anywhere close to the test that the car would receive on the ranges itself. Saturday morning saw us complete a very productive Recce before Scrutineering back at the Builth Wells Showground. With the forecast for Sunday now being dry we decided to put the Toyota into its hard setting and give it a quick run up the road to see how it felt and to bed in the new tyres. A lengthy road section from MTC 1 at the Showground to the first loop of stages via Emergency Service on Mabian' s Way allowing 10 minutes to make any final tyre changes.
In the early morning SS1 at four miles was tricky with some very fast bits through the quarry. The car felt glued at the front but soft at the rear and was making the Corolla nervous over the jumps. A short road section before SS2 with a nasty uphill start, here we could see 2 seconds lost to those ahead with launch control! This stage at 2.39 miles ended on the notorious Burma Road. No problems there so straight into SS3 from Piccadilly to the end of the New Road via the German Village. This stage is fast with not too many technical bits or jumps so the car felt better but again a cautious approach saw us in 20th after the first loop, but at least we had got through unscathed.
The second loop was a repeat of the first three stages so any changes made to the handling would be apparent. We softened the front and stiffened the back which made the car feel better but was under steering; the result over the stages was an improvement of just one second per stage, so although it felt smoother we were not going any quicker. More head scratching in Service and we made some more changes to the Corolla before heading out to SS7. This stage at 13 ½ miles again started at Piccadilly but headed the other way using the Burma Road in the opposite direction before returning to the New Road at Four Ways. Things felt much better, the car felt the best it has for a long time and we recorded 13th fastest time and felt we could have gone quicker as we regained our confidence in the cars ability.
In Service before we turned around to attack the ranges in the other direction our Service Team found a leak from the clutch hydraulics, a seal had failed and fluid was dripping through the clutch and bell housing. We topped up the reservoir before we left and again at the stage arrival, stage finish etc. hoping it would be enough to get us through the next pair of stages. Half way through SS8 Gary reported that we had completely lost the Clutch with the pedal on the floor, not a problem in itself as we don't need it to change gear in the stage but at the finish control it's knock it into neutral and coast to the stop line or stall the engine to stop, either way I have to get out and push to bump start the engine then do my stunt man bit and jump back in as it fires up! Then we had to do the next road section without stopping until we got to the next arrival control where again I got out and pushed us into the control. Then got our time and pushed us to the start line. I asked the Marshal for a minute so I can get back in and belted up, this was done in record time before the count down. Gary put it into gear and used the starter to get us going luckily not before the clock turned green. It was all a bit of luck really but the Toyota fired up nicely and off we went into SS9. No problems in the stage until the finish line where again we stop and the process is repeated again and again. Once into Service we tried in vain to regain pressure into the system, but with the fluid empty and the leak worse it was agreed not to attempt the final loop.
Our thanks to everyone who helped in the preparations in getting the car ready for this weekend and special thanks to our Service Crew Rob, Bill, and Charlie who worked so hard to try and keep us going.
Paul Hollingham
**********************************************
11th August 2013 - Tyneside Stage Rally
Organisers: Alnwick & District Motor Club
Location: Otterburn Ranges
Competitors: 68
Overall position: D.N.F.

Any retirement is hard to deal with and this event was no exception mainly because of the distance and time it takes just to get there. For us in a car it is just over 7 hours at 385 miles directly north of our south coast home. It's considerably longer in a van towing the rally car to get to Otterburn, 25 miles North West of Newcastle.

Having said that, it is well worth doing the trip as the ranges are not for the faint hearted and are very rewarding for both driver and co-driver with very long fast undulating stages usually very slippery in the changeable conditions. We have done this rally 3 times previous but have only finished once - both retirements coming on the 5th stage – this year was to be no different.

The weather was dry, but the stages still damp in places from overnight rain. We headed out to the first of three stages that made up the first loop. A six mile road section to warm everything up in preparation to attack the first seven mile stage. The car felt a bit twitchy over the jumps but otherwise felt good with the Toyota pulling nicely out of the corners and hitting top speed with the brand new Pirelli's gripping well. About half a mile from the end the Corolla just got airborne over a small crested 'K' left and landed with the rear offside wheel just off the road hitting a large bit of Northumberland granite resulting in breaking the wheel and puncturing the tyre. The impact then pulled the front off the road and Gary had to man handle the Toyota back onto the road avoiding a culvert in the process. We finished the stage with only a few seconds lost but the Corolla was crabbing and we expected the worst. The finish marshal's expression was a picture that told us not all was well with the rear, his only comment was we had a puncture but Gary and I knew it was far worse. We had to drive a mile of the next 3 mile road section as the stage finished on gravel and had to find some flat hard standing area so we could stop and inspect the damage.

We changed the wheel as a matter of course and Gary had a quick look to make sure everything was still attached which it was, if a little bent, so we simply buckled ourselves back in and headed off to SS 2 a tricky 3 miler called Riverside that crosses a stream on a wooden bridge with lots of tight corners and blind crests. Our game plan was to now just get through these next two stages and get back to Service to hopefully repair and replace the damaged parts. Gary was going as fast as he could as he hung on to the steering wheel for dear life whilst he grappled for control as the Corolla was trying to pitch us of the road with its rear wheel steer. On our way to the 3rd stage we had a 4 mile road section through a forest on a fairly rough gravel track, we thought if something was going to break it would be here but all was okay and we completed the next seven mile stage, and to our surprise we were not caught by the car behind, in fact our stage times were not too bad either.

Into Service our Team jumped into action and after a careful inspection it looked as if the impact had only dislodged the strut in the top mount apart from the obvious tracking issue. The only other problem found was that one of the lower arms looked bent. This is testament to the Corolla's strength and build quality as from inside the car it sounded and felt a lot worse. So with repairs done and tracking put right (the best that we could under the circumstances), it was onto the second loop which was a repeat of the first three stages. On the road section we experimented with the cars new handling and it didn't feel too bad.

Over the jumps again in SS4 the Toyota was bouncing around on landing so Gary had to lift before the jump to settle the car before take-off. We then arrived at the corner which we went off earlier (now with a triple caution in the notes!). I didn't think the car was handling too bad but Gary was complaining of bad under steer on left hand corners and was suspecting that may by the front tracking had been knocked out of alignment. Into SS5 and on a tight square left over another of Otterburns many blind crests we under steered off the road and as the corner fell away and by the time we stopped we ended up along the side of the road with a ditch between us and the road quite a way past the corner with no chance of turning round or reversing back up the hill, the only option was to continue along the edge of the road to find another way back on. The ground was getting softer and the grass taller and we ended up getting stuck in a bog with soft peat up to our axles and even with four wheel drive we were stuck fast. In true spirit of rallying we were not yet ready to give up, so with several spectators a tow rope and even jacking the car up and putting rocks under the wheels we weren't going and further.

An incident further into the stage caused a permanent stoppage which led to a lengthy wait before we were rescued by a Landover which winched the Corolla carefully on boards backwards over the ditch.

Once we were back onto the road again we drove the car back to Service but understandably had gone well and truly OTL so sadly, that was the end of our rally and the beginning of a long drive home!

Paul Hollingham
*****************************************
7th July 2013 - ALMC Stage Rally
Organisers: ALMC Motor Club
Location: Co. Meath, Ireland
Competitors: 91
Stages: 9 Stage Miles 69 Road Mileage 90
Overall position: 21st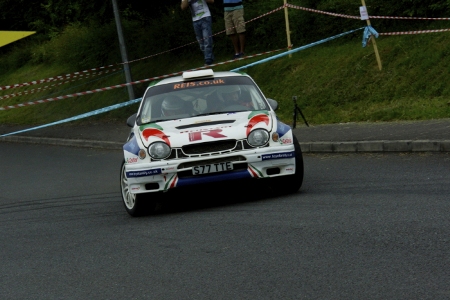 What can be said about our weekend except – to be sure we had a great time!
Our preparations for the ALMC started with an unscheduled round trip the previous weekend to Germany for Christian our engine builder to check over the engine. We've been plagued with an oil leak since the winter rebuild and we were struggling to identify the problem and with the risk of the oil damaging the clutch this seemed the next best route to take if we were going to go with any confidence to Ireland. After a good inspection a small plug in the oil gallery was found to be the culprit and so once replaced, we left Germany and returned to England. It's not the easiest of tasks to undertake but over the next two evenings Rob (King) and Gary put the engine back in, got her running and then loaded up ready for commencing the six hour journey.
So, the next few days unfolded as follows:-
Thursday – set off in the afternoon to Holyhead, Anglesey. Friday – Irish ferry to Dublin to be met by Noel (another Toyota specialist & Goodwood comrade). Back to his yard in Co. Meath to check over the car and take some momentous photographs together alongside Irishman John Reids Forest spec. Corolla. Saturday – Collected Service crew Rob King and Bill Paynter from airport. Teamed up with Enda Shiels (John Reids navigator) for the Recce. Then off to Scrutineering and then into Parc Ferme at Dunboyne Castle to be followed by an evening Ceremonial Start in the centre of Dunboyne. The number of spectators and well-wishers on route was quite remarkable and it certainly can be said that the Irish do love their rallying.
Sunday – Rally Day - (Weather conditions – warm but cloudy).
After an early start, Gary and Enda left Park Ferme and into a short Service to make the final tyre choice before proceeding to the first loop of stages. Each loop consisted of three stages with a total of 37 stage km and 48 road km.
On the first stage the new crew decided to take a cautious approach until they'd got a feel for the Irish lanes. All was good until unfortunately, a few cars behind Mark Jasper and co-driver Don Whyatt had a huge accident in their Metro 6R4. Remarkably, both crews managed to walk away from the scene and were very badly shaken but thankfully not seriously hurt. This resulted in the Stage being stopped and all remaining crews being given a notional time which had been recorded by local driver Michael Curran 24 seconds faster than Gary and Enda leaving them after SS1 one place off the bottom of the leader board – not so good! Most of the other crews were delighted with the time given including Enda's son who was navigating for John Reid in his Historic Escort and was 24 seconds ahead of his Dad without even leaving the start line!
After completing the next two Stages on the first loop, Gary was starting to find the pace and had managed to get back to 42nd place.
Back into Service and with no problems, the Corolla was given a thorough inspection all round. The good news was, it would appear that the oil leak had been rectified, there was no sign of oil on the sump guard at all.
Back out for the next loop of three stages and the road temperature getting warmer, the new Pirelli's were working well giving good grip and hardly wearing at all. You could tell by their facial expressions that they'd had a good clean run and they returned into Service having moved up eighteen places to 24th overall. Again a trouble free Service and staying on the same Rx5's Gary and Enda headed out for the final loop.
The pair were thoroughly enjoying the stages and with their increasing confidence started to push the Corolla hard and set some very good stage times (even faster than Kevin Barrett on SS9!), clawing their way back to 21st overall. If it had not been for the timing issue on stage 1 and they had received the notional time as did over 60 other crews they would have finished 16th overall – but rules are rules!
.........Finally, we'd just like to say that to participate in this Rally meant a lot to Gary and Penny as Mick Eiffe from Co. Meath had helped Gary collate a lot of the parts to enable him to build the car in 2010. Mick had never seen the car competing and would have been so pleased for the car to come to Ireland. Sadly, Mick passed away in February last year after a battle against Leukaemia but the irony was that three times on the road section of the rally, the Corolla drove past his house and workshop. He was a unique character liked by all and a man who is sadly missed and will never be forgotten. With the Irish flag from his workshop flying in our Service vehicle, we hope we made him proud - God Bless you Mick.
***********************************
23rd June 2013 - Three Counties Rally
Organisers: Bournemouth District Car Club
Venue: Smeatharpe
Competitors: 60
Stages: 10 Stage Mileage 45
Overall position: 2nd
Report to follow soon
*****************************************
4th May - Corinium Stage Rally
Organisers: Cirencester Car Club
Venue: Down Ampney
Competitors: 70
Stages: 8 Stage Mileage 48
Overall position: 2nd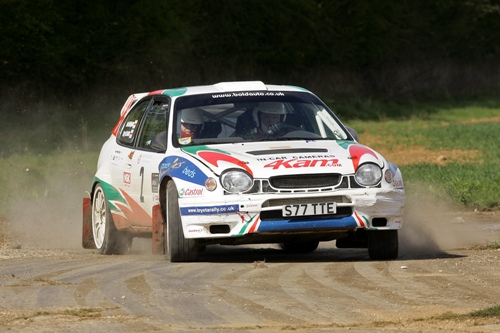 picture taken by EDP Photography
The old World War Two Airfield at Down Ampney was extremely slippery on SS1 due to overnight rain so an Intermediate tyre was chosen. The venue is mainly concrete with some areas broken up making it very tricky when wet.
Martyn and Dawn England in their Mitsubishi EVO9 headed the 70 strong entry we followed into the stage 30 seconds later, with Tristan Bailey / James How behind in their later spec 04WRC Mitsubishi.
Our intention was to attack right from the off and all was going well until we came through the merge to start our second lap right on top of another car leaving the stage start. Unfortunately a misunderstanding as to who should be ahead at the next corner meant us having to take evasive action to miss hitting the Escort which then saw us sliding quite hard into a one ton hay bale. The only damage apart from pride was the Toyota's Bumper but a stall and trying to select reverse cost us around 15 seconds. A spin later in the stage trying to regain some lost time just added to the frustrations and we finished up in 4th spot 4 seconds behind Bailey. Martyn England had a clean run and was a massive 17 seconds ahead but he wasn't leading as Spencer Chard's Subaru went 1 quicker.
Stage 2 was full on as Gary tried to make up some ground in the damp conditions. We managed to set the fastest time taking 8 seconds off the leader. Bailey went second fastest leaving us behind by just 2 seconds.
As the venue was drying quickly it was time for the slicks in stage 3 and set another fastest time the Corolla. We had jumped ahead of Bailey by going 4 quicker; however we were now 2nd as Spencer Chard had retired with a broken gearbox. With Martyn England now leading just 6 seconds ahead we decided to stiffen up the Toyota's Settings in the hope of challenging for the top spot, but as we left the Service Area it started to rain. Three minutes later as we sat on the start line it was fully raining leaving us with the knowledge that our challenge may have to wait and just get through this next stage. Bailey had left his Mitsubishi in soft mode and reversed the deficit to take back 2nd spot as we both took time out of England, 3 seconds now separated all three of us.
The afternoon stages were now dry again and longer at 7.5 miles so were hopeful of a great battle. England had a costly spin in SS5 of around 14 seconds dropping him behind us and Bailey who matched each other again.
A hard push in Stage 6 saw us claw back 1 second leaving us now 1 second behind. This was achieved by catching and passing a slower car. England was now too far back to mount a serious attack so settled into 3rd spot.
The penultimate stage again saw another hard charge and with a clean run we went quickest again by 2 seconds.
Going into the final stage we led the rally for the first time by 1 second. Our hopes of a win though were dashed with a half spin early on, so knew it would be close, but we again caught a slower car into a series of corners and had to wait before we could go our separate ways at the split junction. This obviously cost us another few seconds and we emerged 4 seconds slower than a clearly delighted Mitsubishi driver!
If it wasn't for our first stage incident who knows what might have been, but 2nd is still a great result, and a lot of fun was had along the way.
Paul Hollingham
***************************
19/20th April - London Rally for Heroes 2013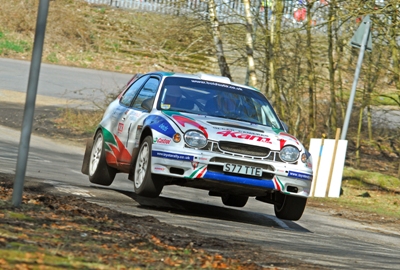 Picture courtesy of Rowan Harrison
Organisers: Southern Car Club
Venue: Rushmoor, Brooklands, Minley, Bramley, Deepcut & Montgomery
Competitors: 90
Stages: 21 Stage Mileage 52 Road Mileage 158
Overall position 1st
Friday finally arrived after a busy week of preparations, with me watching the Patersons DVD, ploughing through the road books and stage notes, whilst Gary was working on the Corolla after a late scare when the gearbox oil pump drive gear broke. The Toyota was finally put back together and only road tested again Thursday night before travelling up to Brooklands Motor Museum the following morning.
We had been seeded at Car 1 so we had to be on our best behaviour before being flagged away by the Defence Secretary Philip Hammond MP at the Ceremonial Start. With no stages on the Friday it was then back onto the trailer and off to Rushmoor Arena, nr Aldershot (the new rally HQ) where Service would be based until returning to Brooklands for the final two stages and Ceremonial Finish.
I had decided to go home overnight so it was a 4.45am start to get myself back to Rushmoor Arena for our 07.21 start! The weather looked fine although there had been an overnight frost with freezing fog so we decided to go straight out on the Pirelli rx9's. We knew if we wanted to do well we were going to have to be right on it from the off, so with two quick blasts around Rushmoor Arena (the Spectator Stages), that's exactly what we did and set fastest times on both runs.
We headed off to SS3 Minley with a slender 2.3 second lead over Martin England in his EVO 9, then Richard Edwards 2 Litre Escort in 3rd spot just ahead of Mark Welch in his Escort Cosworth. BRMC pairing of Paul King & Alicia Miles were in 7th place at this point.
We knew we would struggle in Minley playing road sweeper and nearly lost the lead to a fast charging Welch who went 5.1 quicker than us jumping him into 2nd overall, with Edwards (being co-driven by my son Andrew) setting 2nd fastest time keeping them in 3rd place. Only 4.4 seconds separated the top four cars after the three stages.
The next two stages were through the old Ammunitions Camp at Bramley Woods nr Basingstoke. We set quickest time through both stages extending our lead to 10.1 seconds. On the second running we caught and passed Steve Rockingham's Subaru just before the finish at the same time catching the car that had started a minute ahead, the marshals witnessed all 3 of us crossing the finish line simultaneously!
A lengthy road section (going via the M3) back to Service, where we found a leaking oil pipe which was quickly sorted by our very overworked Service crew! Then we were straight back into the next loop of six stages. News filtered through that King and Miles had retired their Escort with a clutch problem.
Another two runs through the Spectator Stage at Rushmoor saw Martin England winning the first and on the second run we matched identical times. Welch and Edwards were swapping seconds but remained in 2nd and 3rd place.
A new pair of stages was next in Deepcut Barracks nr Frimley. Gary described it as a 3 mile Autotest, I described the notes as being one long sentence which I struggled to read quick enough! Again our game plan was to gain an advantage on the first runs through these stages and again we were quickest through both pairs taking another 4 seconds from Welch.
The next two stages run at Montgomery Barracks would be the only visit there and it can only be described as a mini Caerwent. The stage was extremely green in places and with a split junction it was possible traffic might be a problem so our plan was to push hard before the split to have a clear run on the first half of the stage. Two very fast stages saw us take 22.1 seconds from Welch extending our lead to 40 seconds as we headed back to Service. Welch was still second pulling clear of Edwards who had struggled through the Montgomery stage with worn tyres.
It had been a nonstop morning but very pleased to be leading and maybe a little surprised by the time we had gained on this second loop. It did mean we could now just try maintain the gap and not take any risks so we decided to stay on the same tyres as the next set of stages being a repeat of the first loop with an extra run through Minley would not be too hard on the part worn rubber.
When we arrived at the start of Rushmoor there was a lengthy delay as the stage had not yet been turned around allowing us to have a rest. Edwards and Hollingham jnr. took their first stage win here narrowing the gap back to Welch to 15 seconds. However we put the record straight by taking 0.01 back on the repeat!
The Rushmoor delay meant that SS14 the first Minley was cancelled, to which we were glad as this was our bogey stage. Proved when we only managed 6th fastest, perhaps being a bit too cautious in this tricky stage. The next pair was back at Bramley Woods again being run in the opposite direction. We again extended our lead by winning both runs, the only drama was that we had now completely destroyed our tyres so it was back to Service for a change of rubber before heading out to the final loop.
Just six more short stages lay ahead with the first two again through Rushmoor, however the first of these was cancelled as the organisers tried to make some time back from the earlier delay. Royston Carey in his front wheel drive Clio was putting in a giant killing act and was now third nearly 2 minutes behind Welch after Edwards picked up a puncture. With another long road section via the M3 and M25 it was off to Mercedes Benz World for the final two Spectator Stages on the test track. Two 1.76 miles of lovely smooth Asphalt allowed us to use the Corolla's grip but actually thought we might be at a disadvantage to the quick escorts, however we were again fastest on both runs taking victory by 1 minute 10 seconds. We were so excited when we crossed the final control just 400 metres from the neighbouring Brooklands complex in the knowledge that we had just won our first major multi-venue event.
Motorsport news titled it to be an easy win, but we can assure you it was nothing but easy, with crews enduring 9 hours in the car covering 52 miles through 21 short but tricky stages joined with 158 miles of road sections. This is probably one of the toughest events we have done but it all came good in the end and the champagne tasted 'Oh so sweet'!
Paul Hollingham
********************************
Tour of Epynt 10th March 2013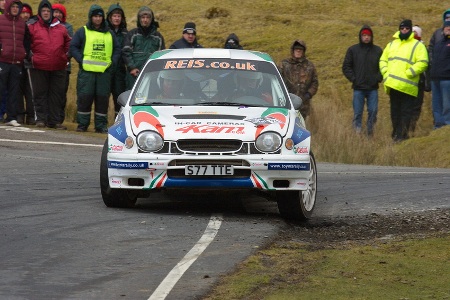 Picture courtesy of Rally Gallery
Organisers: Port Talbot Motor Club
Venue: Epynt Military Ranges
Competitors: 120
Stages: 7 Stage Mileage 80
Overall position 16th
Good Weekend in Arctic conditions!
Having not been to the Epynt ranges for a couple of years we decided that the key would be to work very hard with the notes and the Recce. We arrived in Wales on the Friday afternoon and we got straight to work at running through the notes and watching some previous onboard footage. Gary and I highlighted some areas we felt that needed some improvement.
Saturday dawned with low cloud and our fears of not being able to see the road ahead were confirmed when we arrived a Dixies Corner for the Recce to find it shrouded in mist. This was not part of the plan, however once we started our convoy runs heading east the conditions improved and on the second run over the ranges the cloud had lifted enough to view the road ahead.
Scrutineering went smoothly and only a tyre choice to be made before the first loop of stages in the morning.Over night the winds had picked up and Sunday morning although looked brighter with no low cloud but it was bitterly cold, with temperatures not much above zero but the wind chill was about -10.
We had decided to drive the rally car to the ranges about 12 miles away, this was a good move to get everything warmed before the off. We set up our Service Area before making our tyre choice. As it was mostly dry with no sign of rain, there was only one real option to go for, in our case the softest rubber available that was Pirelli RX9's.
A short road section from the service area in the quarry to Stage 1 arrival at Dixies was just about enough to get everything warmed up. Stage 1 then was only a short three and a half miles, but technically one of the hardest sections on the ranges. Starting at Deers and Devils leap although slowed with chicanes we headed over the jumps down to Llandeilo Fan triangle, up the narrow and slippery Burma Road and finishing at Bamfords triangle. A safe start at 17th quickest with a time of 3.39. This next stage was just under 13 miles and started off heading the wrong way back towards Bamfords, but went the long way around a tricky triangle before heading east again up a road not often used before joining the usual route missing out the German village. The stage then used the more common route via Four Ways, Irish Village, Telephone Exchange, Quarry Bridge, and Davrian Bridge, finishing up the new road. 20th quickest this time leaving us 19th overall. A long road section back to service via the B road past Drovers and a Timed Passage control at the start of Mabians Way before the very muddy forest bit and the relief as you rejoin the ranges at Tirabad rifle range.
Twenty minutes in Service was just enough time to check over the Toyota, refuel and make the all important guess with the weather. Each loop takes about an hour and half and the furthest point is 15 miles away across several valleys, so making your tyre choice can be a bit of a gamble. We decided to stay on the same rubber and with some small changes to the setting headed out for a repeat run of stages. SS3 went very well shaving 10 seconds off our previous run at 3.29 again 17 fastest time. But in Stage 4 the Toyota seemed to lack its punch, it wasn't jumping out of corners or pulling up the hills something wasn't quite right although it didn't feel too bad it did show in the times. Although we went 11 quicker we only managed 30th fastest time and this dropped us to 22nd overall.
A bit longer service time allowed us to discuss in depth what was wrong, we noticed that we hadn't used any water so possibly the water injection wasn't working, which may have caused the anti lag not to work hence our lack of grunt. We were not sure if this was caused by the extreme cold weather or if there was another problem. The cold weather was certainly a contributing factor in our decision to leave it alone until after the next stage as clearing the injectors is a fiddly job and with only ten minutes left in service, and with already cold fingers and hands this would take too long.
Stage 5 at just over 15 miles was stage 1 and 2 combined with a slightly different bit in the middle, this time using Piccadilly hair pin, and running in front of the German Village. The anti lag was obviously working and seemed the Corolla was back on song with a really good 13th fastest stage time at 13.53. We had jumped up to 16th overall and headed back to service feeling pretty confident at attacking the afternoons reversed stages. Again tyre choice would be lottery as this time we had the long road section back through the forest before we could start stage 6 at the other end of the ranges. Although there were signs of the dreaded white stuff falling it was still dry so stayed on the same tyres and hoped the conditions didn't get worse.
A bit of a scrappy stage with the rear moving about meant an interesting ride with Gary pushing hard to extract the most of the Toyota's power and explore the grip levels of the Corolla. This was made more interesting with a miss read pace note from the co-driver. Even I make the odd mistake! Gary managing to hang onto a big slide going wide on some gravel on a 5 Left. A 15th quickest time @ 13.56 pushed us up another place to 15th overall, 3 seconds ahead of a recovering Geoff Kitney in is Mitsubishi Evo.
A small scare saw us stop on the way out to the last stage in the forest and the cars engine just cut. We noticed that the Fuel pump switch had popped out. We put this down to the roughness of the forest road but as a precaution we switched pumps and tuned of the ignition cut. Once we made the smoother asphalt of Mabions Way we reversed the switches and all seemed okay, panic over.
Stage 7 again a repeat saw us trying to improve on our position, we had made a few adjustments to the handling to stop it sliding. This stage did seem to be even more slippery than the last probably because of the cold. Another scare towards the end of the Burma road, on a fast downhill section we got airborne over a crest and landed very heavily with my side of the car completely off the road, I definitely felt it but kept reading the notes so didn't actually see what happened, Gary explained that it had been a massive moment but thankfully the momentum had kept us pointing in the right direct.
We finished the stage 4 seconds slower than our previous run, we could not work this out as it felt better and certainly much smoother so put it down to the grip levels getting worse with the colder weather. This meant that Geoff Kitney had got past us pushing us back to 16th overall.
Considering the high quality of the Entry, we were very pleased with the result.
Paul Hollingham
***************************
26th- 27th January 2013 - K & R Mitsubishi Stage Rally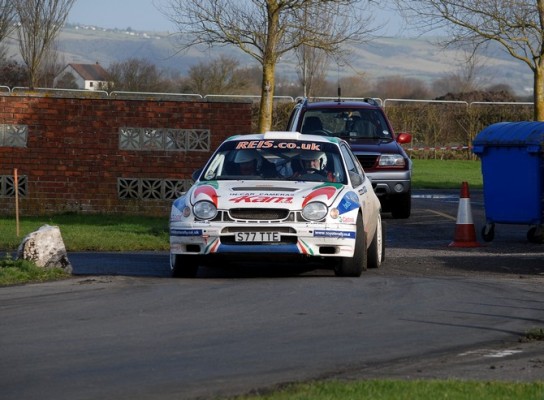 Organisers: Club Rally Sport West
Venue: Brean Leisure Park
Competitors: 85
Stages: 12 Stage Mileage 52
Overall position 4th
After four attempts we finally finished a Rally at Brean!!
Andrew and I travelled down to Somerset early on Friday morning to help with final preparations. We left home just before 7am and arrived shortly after 9, amongst the remaining snow that lined the sides of the roads. After a few hours we were ready to take the Corolla out in the lanes to put some more miles on the freshly rebuilt engine. Gary and I ventured out into the lanes which to be honest felt like we were on the Monte, albeit at much slower speeds. The car felt stable on its new suspension so all was left to do was to get the tracking done before loading the Toyota onto its trailer and travel up to Brean for scrutineering. This was done with no problems, so we headed back to Gary's for supper and a good night's sleep.
Saturday dawned wet and early as we had about a forty minute drive to the venue to ready ourselves for the ten o'clock start. All was good as we headed off to the first of the days six stages. We opted to go straight for the Dunlop slicks but with a wet setting, whilst others played safe on wets. The set up wasn't too bad maybe a bit loose at the back. We were having a good first stage until we were flagged down by marshals and finally had to stop in stage as car 8, Kev Carr in his 2.5litre mk2 escort had come a cropper on the notorious middle road. He had spun and bounced of the scenery hitting all four corners and was left blocking the stage minus his near side rear wheel - Game over.
About fifteen of us made our way back to service in convoy before the stage was resumed. This meant we were given a notional time equal to the slowest time of the seven cars that had completed the stage. Peter Lloyd was quickest with a time of 4m36. Second was Aaron Newby in his ex Mark Higgins Subaru at 4m52 with third place going to Micheal Threlfalls' Evo 10 with 4m55. We were all awarded a time of 5m13 which was set by Subaru man Karl Broad; however he had spun twice and stalled, so we all felt this was an unfair time given.
Because of our poor seeding of 12 we had suffered because of the stoppage and now we were already eighteen seconds behind the top three, and to be honest felt robbed. Several crews included us put in a query to the Clerk of Course to see if the time awarded to us was unfair due to Karl not having a clean run on the stage, to be awarded the next slowest time which was set by Steve Furzeland at 5m10 , however he had also spun – on the very first corner witnessed by all, so we also felt this would also be an unfair time, so it was asked if we could be given the next slowest time of 5m00 set by Martyn England in his Evo9. This argument would go on all day and not be resolved till after stage six.
What this ultimately meant was that after stage one, eighteen of us were equal 21st overall ! Because the stage was restarted it had meant that lower number cars had set a quicker time than we were given. This just added to our frustration so a very fired up Corolla crew set about putting the record straight by setting a 4th quickest time for stage two with a time of 4m39 – Enough said !
We had jumped up to 9th overall but only managed to get to 8th by the end of ss4 due to the intermediate conditions and trying different settings that weren't quite working. So with the final two stages now completely dry and with a better set up the Toyota was much more stable and again we were able to set a couple of decent times, in fact we were 3rd fastest on both pushing us up into 6th place overnight. With reseeding on the next day's six stages this would be important for us to keep out of trouble.
Heavy rain and high winds overnight had left the venue very wet, even by ten o'clock when we set of to Stage 7 we were on full wets with a slightly different wet setting to the previous day. This again improved the handling and was doing really well until the merge next to the start line where we caught a slower car. It took quite a time before this older style Subaru finally moved over to let us by. It felt like we had lost loads of time but had still set 4th fastest time, and by the end we had moved up to 5th overall as event sponsor who was lying ahead of us overnight had not restarted due to illness.
Stage 8 was again a repeated run, so not wanting to get baulked again we really put the hammer down and managed to come through the merge in front, however our bad luck was to continue as we caught a slow moving Dave Parnell in another Subaru who was suffering with turbo failure, we followed him all the way up the 'middle road' amongst his blue smoke before he could pull over to let us past, more time lost.
We had been chasing Aaron Newby for 4th and had taken six seconds of him on this pair, and were now only ten behind. The conditions were drying fast so it was now time to bolt on again the x22 which we had used all day yesterday. Mr Newby had bolted on some brand new rubber in his bid to keep us at bay. Stage 9 was a slight variation of the previous pair and half way through we couldn't believe our eyes as we came across our old friend in his Subaru, but this time we couldn't get past and followed him for nearly half a stage with the horn full on. This had cost us loads of time but to our surprise had still set 3rd fastest time, and taken another four of Aaron – so what might have been if we had had a clean run. As we were servicing next to the finish line We were about to speak to the driver of the Subaru when the CLO came over and said he would deal with the baulking incident as he had been watching the stage and had seen what had happened – probably just a s well !
Stage ten we had a reasonable run but this time had lost a second to Aaron as we had probably now had the best from the worn Dunlop's. It was decided to go up a compound and push the setting to full dry, but a worrying black cloud was looming over the rally. All of the top ten were on slicks as we queued up for SS11. But as Car 1 left the start line it started to rain.' This'll be interesting' I said as our start time approached. Only two minutes after Peter Lloyd had started the stage just as we left the start line the venue was hit by what could only be described as a mini tornado with a deluge of heavy rain, hail, and high winds. As we launched ourselves into the stage the rain was so heavy we couldn't actually see where we were going ! Because we had just changed tyres etc. we slid and under steered all around the stage but escaped with only one half spin, however our fight for 4th was over as we dropped 16 seconds to the man in front. We had a two minute gap to the guy behind us so it was decided that we should play safe and just get through this last stage to secure our first ever Brean finish. In service the news filtered through that Peter Lloyd had retired with a blown turbo so on went the wets and with the settings again pushed back we entered the last stage in 4th overall.
We only managed 7th quickest time but we had done enough to finally get to the finish of this rally and with all the trouble of the previous days timing issues and our holds ups today we headed home very happy with 4th overall, and 2nd ASWMC , and more importantly with a Toyota that was performing very well.
Our thanks go to Rob, Bill, Charlie, Andrew & Penny who looked after us all weekend in some extreme weather conditions!
Paul Hollingham
*************************
Sorry no Reports in 2012 - Internet problems!
**************
25th September 2011 - Patriot Rally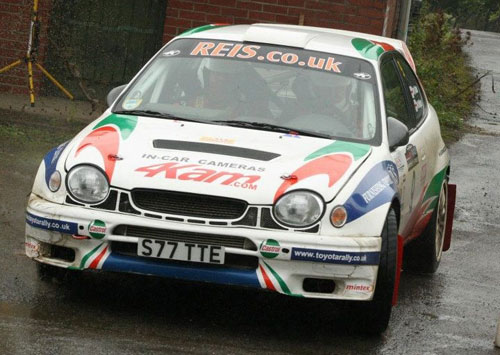 Organisers: Forresters Car Club

Venue: MOD Training Camp - Caerwent, Wales

Competitors: 100 Stages: 6

Stage Mileage: 64

Overall position: 7th
BEING PATRIOT
The penultimate round of the REIS MSA Championship at Cearwent started wet and early! Gary and I have not experienced this tricky venue in the rain so were unsure what to expect. On the way to the Service Area we surveyed the roads which looked to be damp with not too many puddles. The weather was still unsettled with periods of full rain, drizzle and dry so decided to play safe with full wets.
Into SS1 and a good start, the roads were damp with no standing water with the corners at this early stage being clean from mud and gravel; however it was still extremely slippery in most parts as we were soon to find out. A costly overshoot meant a stall and what seemed an eternity to restart the Toyota , find reverse to back up and on our way again costing around 15 – 20 seconds. We were pleased then with 6 th overall and to be leading our Class as the two protagonists battled it out in front with Cole and Mauger both matching each others times .
A change for the next pair of stages but with so many roads and junctions the drivers don't actually know where these changes are and just follow the maze of roads being called by the voice in the intercom.
Our main objective was to concentrate and learn where to make cuts and more importantly where not to!! I was marking the don'ts whilst Gary was finding the cuts.
After lots of deliberation in first Service we decided to stay on the 'wets' as the rain started to fall again. Probably a good choice although in the main it was grippy enough for Inters there was certainly more muck in the corners that had been pulled onto the road from the 90 or so cars that had passed through Stage 1.
A pretty good time on SS2 saw us moving ahead of Paul Swift into 5 th on equal time with Mark Straker's Darian and three seconds ahead of Bob Fowden. We opted for cut inters for the next stage which was a gamble because of an accident on stage 2 had caused a delay, so everyone had to make their choice then wait for over an hour in the Arrival Time control. It rained, it stopped, it rained, it stopped and so on. We could see the good weather coming but it was still raining when we left the line, but the grip level was good and we put in a good time but dropped two spaces as Straker went one quicker and a fast charging Escort piloted by Steve Leonard was matching the front runners after a stage one error.
A longer service allowed the roads to dry in the welcome sunshine so slicks were now bolted to the Corolla. The next pair of stages was the first to use the tight twisty bit known as Quarry Road and it certainly lived up to its reputation for being extremely slippery but is only about a mile long. Before we got here, we had made a silly mistake by turning up the wrong road, Gary was unsighted with mud and water on the screen from taking a big cut in the previous corner and turned in too early. The situation was made worse when realising the mistake the handbrake was applied to spin the car around but it just gripped and we stopped sideways across the road. Again causing the Corolla to stall, so this time we had to restart do a three point turn before we could get on our way again. This obviously cost us loads of time, (nearly 30 seconds) and a deflated crew emerged dropping yet another place overall and handing the class lead to Bob Fowden.
Stage 5, (a repeat of Stage 4) was successfully negotiated this time and a massive 45 seconds quicker, Gary obviously pushing that little bit harder in the now completely dry conditions. However everyone ahead of us had the same idea so only a small progress was made on the leaders.
Because of the lost time earlier in the day with the accident, Stage 6 was now to be the last, so only one more ten mile stage to mount a serious comeback. Nevertheless we tried very hard with another good time on this final stage but it wasn't good enough to improve on our 7 th Overall and 2 nd in Class which is still a great result at this level of rallying.
Paul Hollingham
17/18th June 2011 - Rally of the Midlands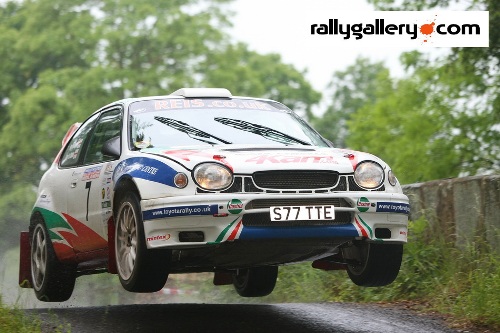 Picture taken by Mark Simms
Organisers: Streetley Motor Club
Venue: Argents Mead, Bramcote Barracks, Merevale, Arbury, Higham MIRA and Lindley MIRA.
Competitors: 92
Stages: 24 Stage Mileage 82 Road Miles 124
The Rally of the Midlands is one of our favourite events, having led on two occasions and finished 3rd overall on our first attempt in 2007. We were overnight leaders on the first day in 2008, then in 2009 we retired with a broken propshaft whilst leading. We missed the event last year (due to being in-between cars).
This year's event was again a two day format, however the entry was far greater than we have experienced before on this rally due to it being a round of the REIS MSA Asphalt Championship.
Last years winner Damian Cole (Ford Focus wrc) led the field away from the town centre start in Hinckley for the first of six stages to be run on the Friday evening.
The first stage was Argents Mead a very short blast or should I say 'Autotest' around the car park in front of the council offices. Two years ago we actually beat the bogey time here but this year's course was much tighter but none the less we set a time of 37 seconds which to our delight was fastest so at least we were leading the event after SS1.
Stages 2 and 3 were around the barracks at Bramcote, again another of our favourite venues, and Gary didn't disappoint the crowds as we attempted to stay on top of the times sheets.
The first run through included a few small errors pushing very hard with 5th quickest time, then an improvement on the second left us in 4th spot.
The next two stages were at Arbury, a stately home stage with the usual mix of narrow roads, speed bumps, cattle grids and a hump back bridge. With the changeable conditions we were very cautious and dropped to 7th before the final run back at Argents mead where we again set the fastest time of 37 seconds.
Unfortunately SS3 times were cancelled due to timing issues and as we had set a good time there we now dropped to 9th overall.
Day two started at 06:50 as we left Parc Ferme and headed for a quick ten minute service before the mornings first pair of stages again at Bramcote Barracks.
The weather was looking again changeable so we opted to stay on the Inters we had used the previous evening. This first loop would see us out for nearly 4 hours, doing 32 stage miles, over 9 stages at 4 different venues, so tyre choice was a lottery with the unpredictable weather!
No reseeding for day two so we were still 7th on the road, David Hardie was the overnight leader in his Subaru.
Gary and I wanted to try and close the 38 seconds gap so threw caution to the wind and really attacked the Bramcote pair, however the conditions there were much dryer than expected but we still managed a 2nd and 3rd fastest times.
We were only bettered by Steve Simpson who had now taken the lead from Simon Mauger. Hardie who had spun in the first stage was 3rd. Damian Cole forth, John Indri in his Darrian was fifth, Iain Pritchard who won this event in 2008 was next, then us.
SS9 and SS10 were at Arbury and again we attacked hard with a big jump over the hump back bridge, leaving the stages still in 7th.
SS11 was a new 2 mile stage at Mira using the high speed straight and banking. John Stone in his ex works Skoda Fabia wrc unfortunately had his engine let go, possibly something to do with one of the straights being nearly a mile long, we ourselves were flat in sixth for over ten seconds.
Only 2 seconds slower than the leaders we jumped Hardie into 6th.
Next up was a pair of 8.7 milers in Mira itself which included the handling circuit and again some banked curves. Two miles in we came across a chicane with a destroyed hay bale and then half a mile later saw the retired Darian of John Indri who had damaged his radiator on said hay bale! This moved us up to 5th.
When we finished the stage we then came across Simpsons stricken Subaru with a broken alternator belt. So now we had jumped to 4th overall.
We were also in trouble as we had no rubber on the tyres left, whilst pushing hard in the earlier stages we had worn out our Inters. We had prayed for some rain to dampen the stages a little but the early morning sun and wind had dried everything up, and now with no grip we prayed that the rain would stay away, but no, on our way to the final pair of stages it rained. It couldn't have come at a worse time for us as they were through Merevale, another stately home which is very tricky at the best of times. We lost about ten seconds a stage but still managed to remain in 4th as we headed back to service for a well earned cuppa.
After only a 30 minute Service we were back on our way for the middle loop of 7 stages feeling good with our achievements and now with some new rubber this time soft Slicks we were hopeful of consolidating our position and maybe push for a podium.
Back to Bramcote this time the stages reversed and another pair of cracking times. We equalled 2nd fastest time with Cole on the first and then quickest on the next, one second ahead of Cole and three off Mauger!
No Arbury this time so straight into Mira with the short stage first and again we were quickest equalling Maugers time and taking 5 off Cole. This was achieved despite taking an unintended massive jump over the 1 in 3 ramp and landing the Corolla heavily nose first. With no time to get out and check the car we went straight into the pair of 8.5 milers with one eye on the temperature gauges. Here Mauger and Cole were able to stretch their legs and increase their lead whilst we matched the times set by Pritchard who maintained a 50 second margin.
Two more runs through Merevale safely saw us again heading back to Service.
Our luck ran out here as the Toyota suddenly started to lose power and cough and splutter along the road section and with about 3 miles to go the Corolla stopped with the 'read out' saying low fuel pressure. We changed pumps fired it back up and got about half a mile before the same happened again.
We played around for a bit trying to work out what the problem was checking all the fuses etc.
I jumped out to direct the traffic around our stricken car as it was on a busy main road with Gary frantically trying to resolve the problem.
A faulty wire to the pumps in the rear near the fuel tank was to blame, and now we had a race on our hands to get it sorted and get back to service as we were already several minutes into our lateness. We clocked in at 14 minutes and 20 seconds; phew we had made it just in time.
There had been a few stoppages earlier in the day so the organisers reduced this Service to 20 minutes, so everything was a bit of a rush to get us back out on time. The boys worked wonders with tyre changes and refuelling, whilst Rob checked over for any damage we may have done from our earlier flying experience. Penny and Tracy fed and watered Gary and I, and soon we were on our way for the final two stages back at Mira. A delay before the first of these allowed me to check the regulations to see if there was to be any penalties for our lateness. I then had to break the news to Gary that the lateness on this event was only ten minutes instead of the usual fifteen.
Our game plan was to carry on because of all the earlier delays on the event, we were hopeful that the road penalties would be scrapped. This happens on a lot of events and in any case you continue until told otherwise. We had a good lead over 5th place and no real chance of catching the car in front so decided to just get through this pair without risking all and see what happens later.
We were 5th quickest on the first run through, but half way through the final stage we punctured the rear offside tyre. It thankfully stayed on the rim and we managed the finish line dropping around 40 seconds. We changed the wheel before driving the final 8 mile road section back to the Ceremonial Finish.
We had finished 4th overall, won our class and were 3rd in the MSA Championship. We then headed back to Service and Rally HQ to await the official results; however our hearts sank with the news that we had indeed gone OTL.
A bitterly disappointing end to a hard fought tough rally, but the one consolation was that we left with the knowledge that we can mix it with the 'big guns.
Our next event will be the Event Signs Mewla Rally over the Epynt Ranges where we again hope to perform well against our Championship rivals.
Paul Hollingham
28th May 2011 - Launch Motorsport Stages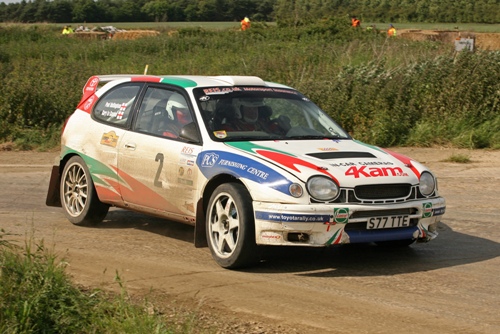 Picture by EDP Photography
Organisers: Enthusiasts Motor Club of Stonehouse (Emcos)
Venue: Down Ampney, Gloucestershire
Competitors: 60
Stages: 10 Stage Mileage 68
Back at Down Ampney Airfield for this years Launch Motorsport Stages, a venue Gary and I know well having won here previously. Last year however we broke the Celica's gear box whilst leading so were back to try and regain our crown.
Early morning drizzle and low cloud was our only concerns as we went through scrutineering at 6am. By 8.20 we left the service crew to put on our tyre choice as we headed to pre event briefing. We were running at Car 2 so had little time to warm the car ready for our 8.42 due time.
Although it was constantly raining it was only fine drizzle which left the predominantly concrete surface damp and not wet so we chose very soft inters. From experience this venue is extremely slippery when went so a softer suspension was set before we headed of to the first stage. The stages were run in pairs with the first being 5.5 miles and one split junction.
Last years winner Matt Green in his Subaru led the field away with us starting 30 seconds later. A cautious start was planned as this event was really a shake down for the forth coming Rally of the Midlands and to see if the flat shift and water injections problems had been cured.
All was going well, until braking for a square left the car was slowing nicely down through the gears till about ten metres before the junction the car suddenly aquaplaned straight on into a one ton hay bale guarded by pallets and tyres. The Corolla just ploughed through this head on and stalled. It fired up and we were on our way again watching the temperatures but thankfully all seemed okay.
Once through the split junction we came out behind Rob Dennis in his potent mk2 Escort who was clearly struggling in the conditions with only rear wheel drive. With four wheel drive we were able to use our extra grip to go past Rob as he moved over to the left side to let us past, however we were already making a pass on that side and to avoid an accident we had to brake hard a swerve to miss putting the Corolla into a slide with the rear of the car in the bushes. Gary managed to hang on to it and both cars made the chicane intact. Rob graciously then let us pass before the next corner with no more dramas.
We obviously didn't think we'd done very well on the first stage but were actually pleased to find ourselves in 2nd place only two seconds behind Mark Ellis in his Subaru with Matt Green in 3rd place one second behind.
The drizzle had stopped and started to wind dry the stage, so we opted for a safe option and stayed with the same settings and tyres. Again Mark went quicker this time by only one second to keep a slender three second lead. Matt was ten seconds slower, so looked as if it was going to be a two horse race. The next pair of stages were longer at seven miles each. Gary decided to have a push on the next one as it was much dryer. We stayed again on the inters which was a good choice as ¾'s of a way through the stage we had actually caught and over taken Car 1. The stage had gone really well everything was working on the car with the driver happy with the settings and the grip level, this was until the last set of corners a square right into a square left, hand brake into the first to set the car up for the square left and the car just went straight on, so had to select reverse. This allowed Car 1 to regain his position and with around 15 seconds lost and more importantly all our hard work had been lost. To our surprise we were still 2nd fastest again and had only lost 4 seconds to Mark.
SS4 we tried again, this time Car 1 had opted to let us run first on the road, with not having to get past we had a good run and went fastest by nine seconds to take the lead of the rally by two seconds. SS5 and SS6 were again shorter stages at 5.5 miles the first of which was now totally dry so opted for slightly harder compound tyres but left the settings the same. This transformed the car with less roll and gave Gary much more control and confidence; so much so that we were again quickest but had taken a huge 15 seconds of our nearest rival.
As we finished the stage it had started to rain again, but opted for the same tyres as it only dampened the surface. As we got under way the rain started to come down heavier and didn't take us long to work out we were totally on the wrong tyre and in this repeat stage went 50 seconds slower ! Luckily for us most other crews had done the same, the crews that got the choice right were too far behind to be any real threat.
With our lead now at 21 seconds we didn't hesitate to put on the safe option of full wets for the next pair of stages the longest at 7.1 miles. Mark pulled out all the stops here as he stayed on inters and took 3 seconds back, however we were happy for him to do this as we again opted for the save option. SS 7 had actually dried more than we anticipated so Gary threw caution to the wind and drove the car sliding it around like it was an Autotest. We both thoroughly enjoyed ourselves here entertaining the Marshals and actually took back the 3 seconds lost on the previous. Mark was complaining that his inters were going off whilst we destroyed our wets !
The final pair again at 5.5 miles each was the first to be completely dry with the sun shining for the first time. We decided to change back onto the harder tyres that had worked well in the morning. The car felt great, and over this pair we managed to double our lead by taking 25 seconds off our rivals in just 11 miles.
This was our forth win at this venue but our first win in the Corolla, hopefully the first of many. Our thanks go to Rob, Bill, and Andy for having to work in miserable conditions, and to Penny for keeping us fed and watered.
Paul Hollingham
************************
13th March 2011 - Tour of Epynt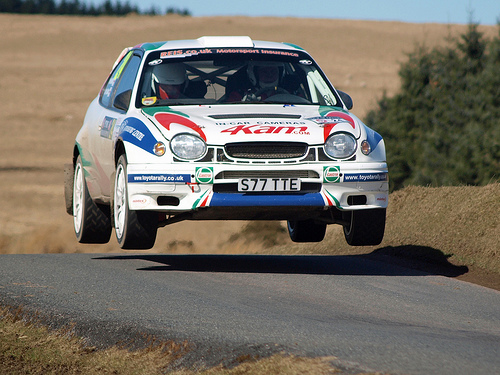 picture courtesy of Chris Harrison
Organisers: Port Talbot Motor Club
Venue: Epynt Ranges
Competitors: 100
Stages: 7 Stage Mileage: 84 Road Mileage: 90
Overall position: 18th
The last few weeks since our last event have been hectic preparing the Corolla for what looked to be a hard start to the REIS MSA Asphalt Rally Championship, as 46 crews from the 87 starters had registered to do battle across the treacherous roads of the Epynt ranges. The whole team was looking forward to the Tour this year as we missed last year's event being in between cars. Saturdays Recce started in a disappointment as the first passing was hampered with stop/starts due to meeting other conveys and also the Military were on manoeuvres with soldiers walking up the roads and slow moving army trucks. This was made worse as the chicanes were not yet laid out which made it difficult to note their exact locations and layouts. The second run over was much better so we left the ranges feeling fairly satisfied with the task that lay ahead the following morning. Overnight rain meant the first loop of two stages was going to be slippery and although the sun was out by the time we set off to MC 1 it was still bitterly cold. We chose a very soft tyre with some extra cuts with a soft setting to cope with the damp conditions. Gary and I had not used these tyres before and were concerned with how they would last the 18 miles. The first stage of this loop was 7 miles, with a tight and twisty start, passing through Dixies and over Dears and Devils leaps, (slowed this year by chicanes). Up the Burma Road, round two triangles on the main road and finishing at the Piccadilly hairpin.A stall on the first junction hand braking around a bale hindered us to 21st quickest 3rd in Class just 3 seconds behind Class rival Mark Worley's Subaru. A very short road section was no rest bite before being thrown straight into SS2. Starting the other side of the hairpin at Piccadilly heading towards four ways junction avoiding the German village and ending on the New Road at just under 11 miles via a few more chicanes and triangles. 16th quickest moved us 3 places into 18th and jumping Mark Worley to 2nd in class. John Stone was leading the Class in his Skoda Fabia wrc and was lying in 4th place overall already over a minute ahead! A 25 minute road section back to service was plenty enough time to contemplate our efforts and to discuss how we should improve things. The tyres felt as though they had 'gone off' especially under braking on the fast down hill parts, so we decided to up the compound, especially as the sun had dried everything out and the temperature had warmed to about 8 degrees. Not everything has been resolved since our last event with the water injection seemingly not working resulting in power loss and the flat shift/gear change intermittently causing what can only be described as a chronic misfire. This misfire was to get worse throughout the day and hampered our advance up the leader board. Into the second loop which was a repeat of the first pair of stages, now dryer we went 38 seconds quicker. The tyres took some time to get heat into them so we were careful to start but once warmed up went well over the remainder of the stage. We finished SS4 dropping a place to 19th because Mark Worley had got back in front of us. Coming into the arrival control at service the cable that allows you to select neutral broke. With only twenty minutes and other more pressing jobs to do we didn't have time to repair/replace the cable, not a problem in itself but we could not select reverse gear so had to make sure no overshoots followed. We decided to stiffen up the Corolla's suspension as Gary was feeling the rear was lifting in the slow corners and this may have been why we thought the earlier soft tyres were going off. SS5 was the first pair of stages joined together at just under 18 miles. The handling improvements really transformed the Corolla and Gary was able to attack the Ranges with more confidence, but our troubling misfire was once again hindering our progress. We tried to resolve the problem mid stage by trying different FAS settings, switching fuel pumps and finally turning off the flat shift. We only managed 21st quickest here actually 13 seconds slower than the previous pair put together. A longer Service meant we could repair the broken selector cable and also gave us a chance to clean out the water injectors for the water spray as this was still not working. SS6 was in the opposite direction and was 15 miles. This was our worst stage of the rally with the misfire/flat shift problem making the car difficult to drive and we were unsure whether or not we could even continue. We turned everything off and just drove through the stage. We still managed to catch up the car that started 30 seconds ahead of us but couldn't get past so followed them for the last mile or so, with a bit more time lost. However due to our slow start in the stage the car behind had caught us up so the three of us finished SS6 nose to tail. Only 23rd fastest saw us drop to 19th overall. Another short service before the final stage, a repeat of SS6 saw us shuffling around in the time controls so no-one caught anyone. This was then our best stage of the rally, with everything switched off Gary just drove the nuts off the Corolla having to change gear by lifting and reverting back to right foot braking. We were 14th quickest on this occasion.The stage ended at Dixies with a very long road section to Brecon for the final control before we found that we had moved ourselves back into 18th overall and 3rd in class.With such a strong entry we were aiming for a top 15 but were pleased with the result considering our problems.
***********************
19th February 2011 -Kynaston Autos Stage Rally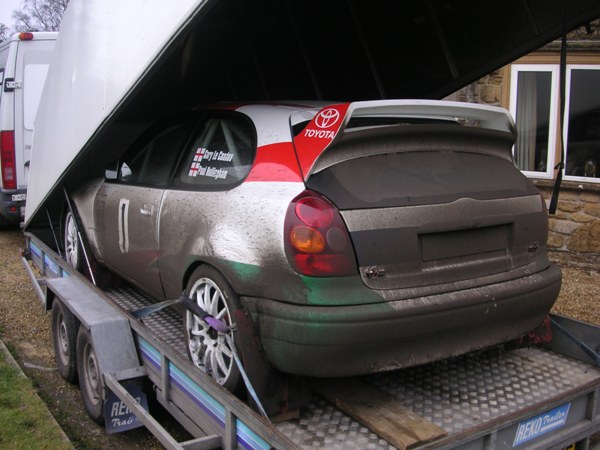 Alot of pressure washing needed after this one!!
Organisers: South Hams Motor Club
Venue: Upottery Airfield, Smeatharpe
Competitors: 48
Stages: 8 Stage Mileage: 45
Overall position: 2nd
It dawned damp and misty and having had heavy overnight rain the early stages looked to be very slippery, especially since the old airfield is storage for several large piles of dung !We chose full wets for the first stage; being seeded at car 1 is always tough as everyone else watches what you're up to.The tyre choice was a good one, as half the stage had running slurry across it.However this was not our main concern, as the Corolla was misbehaving with the engine electronics cutting in and out and a time consuming stall on the start line. We struggled through the stage finishing only 7th quickest and in just 4.5 miles had lost 19 seconds to the leader, Martyn England in his Mitsubishi EVO 9. We had similar problems on SS2 but not quite as bad but only managed 4th quickest, 9 seconds behind the leaders. This doesn't sound much but its 2 seconds a mile which in rallying terms is a life time. SS3 was much better after we decided to switch to No. 2 fuel pump and this seemed to alleviate the problem but at the finish we turned too early around a line of hay bales which meant a quick spin round on the handbrake before we slotted into the correct line of bales. Another stall during this manoeuvre just added to our time and frustrations of a bad morning. Our only saving grace was that several other crews also made the same error at this point as the stage diagram was confusing. This 6.5 miler was repeated again before the lunch halt, and with a dryer line we opted for soft rubber with extra cuts. Now pushing hard to make up for lost time Gary had to make a huge save when we ran wide on some slurry when braking from 6th gear in a long right hander narrowly missing a large pile of dung covered in tyres. We set equal fastest time on SS4 with leader Martyn England and 2nd place Mark Ellis (Subaru) and had at least done enough to push ourselves up to 3rd at this half way point. With the afternoon stages now drying out and the pace increasing, most crews had a few hairy moments on the parts of the stage that were still very slippery. The changes made to the Toyota's handling were certainly being put to the test and seemed to be working well as Gary turned in through the chicanes with confidence, and was getting quicker as the day went on. SS5 we were again equal fastest with England, taking three off Ellis. Going into the final pair we were only 3 seconds behind Ellis and determined to make amends, but he was equally determined to keep us behind as we matched his times on the penultimate stage. Into the last with a real push we emerged winning the stage and set a time eight seconds quicker than the Subaru moving into 2nd place overall. Congratulations to Martyn and Ian England who never put a foot wrong all day. Second is a really good result for a hard day, the best so far in the new Corolla and if we can start next months Tour of Epynt in the same way we finished here then we can hope for good things ……………… can't wait !
Paul Hollingham
***********************************
28th September 2010 - Patriot Stages Rally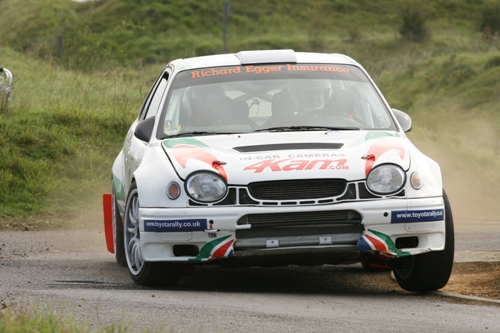 Picture courtesy of EDP Photography
Organisers: Forresters Car Club
Venue: MOD Training Camp - Caerwent, Wales
Competitors: 100
Stages: 7 Stage Mileage: 70
Overall position: 3rd
PATRIOT PODIUM
Since our last event on the Epynt ranges the car has undergone more suspension tweaks, such as lowering the rear trailing link bars and having David Appleby Motorsport setting up the wheel alignment to try and improve the Corolla's handling.
However an off on the very first corner of the first stage nearly ended our chance to find out how well the improvements had been!!
Cold brakes, cold tyres and carrying too much speed was the cause of our straight on into an earth bank. Not really the start we had in our game plan and we both thought that was the end of our rally. Luckily the Corolla has a strengthening bar just behind the bumper that protects the intercooler and radiator, consequently this then took the full impact which allowed us, (to our relief) to carry on. Continue we did, now a little more cautiously and watching the temperature gauges we still managed 7th fastest time.
Back into Service we found the lower bar to be bent but no other signs of damage apart from the obvious bits of bumper missing! We thought the cars handling was good so made no changes in Service and stayed on the soft rubber as the morning was still quite cold.
The next pair of stages was again just over 9 miles and included 93 of the 130 junctions of Caerwent! SS2 we were 3rd fastest, then 4th fastest on the next after changing to medium compound tyres. This moved us up to 5th place overall.
SS4 and 5 varied slightly around the countless junctions but also included the infamous quarry road, a narrow tight twisty lane that threads its way along the old quarry face, a real co-drivers nightmare as the road books scale is too big to show all the detail, so the driver has to work extra hard for this ¾ mile section. We lost some ground over this pair, probably due to the tyres being very old now and not wanting to repeat our stage 1 antics.
Dropping briefly back to 7th again on ss4 we soon gained a place back on ss5 when event leader Peter Lloyd in his old car (Subaru S12b ) retired with gearbox woes. In Service we decided to go back on the softer tyres for the remaining pair of stages, the longest at just under 10 miles and again using the quarry road. SS6 went well with 4th fastest time which gained us another place when last years winner Steve Leonard also retired with a failing gearbox.
So we headed off into the final test only 3 seconds behind class leader Steve Hollis (Mitsubishi evo9) with us now in 5th place overall. It looked as though we were going to have to push really hard if we wanted to make any further progress up the leader board as 2nd to 5th was only separated by only 16 seconds.
Push we did, (maybe a bit too hard) as a half spin early on avoiding a rock that had been dragged into the road, was followed by a big slide coming out of the quarry, narrowly missing a telegraph pole! We kept it going though and ended the stage setting joint fastest time with Adrian Brown who remained in 2nd place overall.
To our surprise and delight we had jumped up 2 places and finished the rally 3rd overall and winning our class. Event winner Simon Mauger was too far ahead for us to mount any sort of challenge but we did get a consolation prize as his co driver wasn't registered for points, so I took top honours and maximum points in the BTRDA / MSA Asphalt Championship with Gary taking 2nd placed driver.
A really tough rally and our best result so far in the new car, and certainly one of our best results to date.
Paul Hollingham
---------------------------------------------------------------------------------
August 29th - The EventSigns Mewla Rally 2010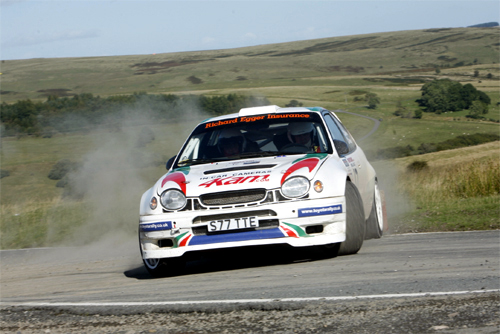 Picture taken by Martin Taylor
Organisers: Epynt Motor Club
Venue: Epynt Sennybridge Ranges
Competitors: 104
Stages: 8 Stage Mileage: 85
Overall position: 17th
Testing Times!
As the crews lined up ready for the start at the Royal Welsh Show Ground in Builth Wells the weather was steadily getting worse. It was dry when Car 1 left the line but by the time we left eight minutes later it had started to rain. We had a 40 minute road section which took us through the Service Area on Mabians Way where most crews including us called in for a quick tyre change. We chose intermediates as we didn't feel it was wet enough for full wets.
To be honest by the time we had finished the first loop of stages totalling 20 miles there wasn't really a correct tyre to be on because the weather went from dry, to drizzle, to full on rain. The SS1 was a very slippery eight miles and mainly used the top part of the ranges which is more technical and twisty than the main stage through the new road. The car was under steering badly as we struggled to get heat into the tyres and Gary was finding it hard to keep the Corolla under control, unable to use Anti-lag and not wanting to push too hard and throw it all away early on.
We finished Stage One with no time to reflect on our progress as within three minutes we were off into Stage Two, 11.21 miles over the faster and flowing 'new road'. The standing water, dry areas and very slippery damp parts made for an interesting ride, but we escaped without incident just happy to be on our way back to Service for some much needed head scratching on how to resolve the handling.
We had realised that the front anti-roll bar was on a hard setting, which probably contributed to the under steer, so it was adjusted to medium. And the low speed and rebound were both softened up and set off to Stage Three on the same tyres as it had stopped raining and started to dry out.
Stage Three was SS1 and SS2 joined together with a distance of 19.75 miles, but when we reached the arrival control there was a delay due to a couple of accidents on the previous loop. Whilst waiting, the heavens opened again but at least being on inters it wasn't so bad for us, some crews had opted for slicks!
The first half of SS3 again was extremely slippery but with the changes made the car was handling much better, albeit with no grip from the tyres! On our way back to Service we were handed results for the first loop at passage control and were surprised to find ourselves in 23rd position.
Back into Service the rain had now stopped and looked like drying out so we opted to keep the same settings and tyres and headed off to SS4, (a shortened version of SS3) at 13.34 miles. It was much dryer in the stage and we had a good run but did hit a pot hole half way through which knocked the steering out, so in Service a lower arm had to be changed.
The afternoon stages consisted of two loops of two stages in the opposite direction. SS5 and SS7 were 11.26 miles finishing just after the German Village at Piccadilly. With a short road section to SS6 and SS8 at 3.79 miles (a horrible stage which finished near Llandeilo hairpin, over a nasty jump into a gravel chicane, down to a very tight junction and finished on a gravel road), followed by a 13 mile road section back to Service through the forest.
The first run through was good, the car was handling better in the drying conditions and we felt we could possibly have used slicks on SS5 but then SS6 was more slippery and the inters proved to be the right choice.Moving steadily up the leader board we were now heading and aiming for a top 20 spot.
With the sun shining for SS7, we reverted back to the dry settings and put soft slick tyres on and headed off to complete the final loop. This felt much better and we could now push really hard and actually use the Anti-lag for the first time all day (as it had been too aggressive in the wet) and we set a top ten time.
On the final stage Peter Lloyd in Car 1 (the rally leader) had a wheel lock up and spun backwards sliding off into a 'bog' so yet another delay meant we were in the car on the last loop for over two hours once we'd completed the long road section back to the final time control at the showground.
Epynt is always very fast in the dry but treacherous in the wet and although we struggled in the damp conditions we learnt alot about the car. We came away happy with 17th overall and an added bonus we actually won our class against similar WRC machines. At the awards ceremony Gary was also awarded the John Horton Motorsport Management award for 'star drive' for his achievements with the new car, after all it was only our 3rd event with it.
Paul Hollingham
---------------------------------------------------------------------------------
14/15th August 2010 - RICHARD BURNS MEMORIAL RALLY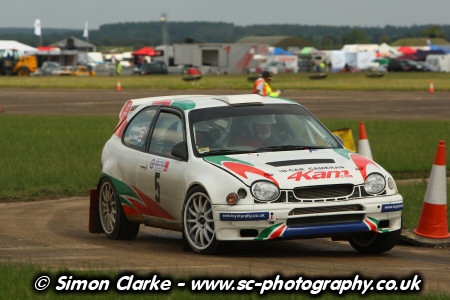 A puncture SS2 puts the presssure on!
Organisers: Kings Lynn Motor Club
Venue: RAF Marham
Competitors: 135
Stages: 8 Stage Mileage: 105
Overall position: 14th
This two day event is a must for any rally fan whether competing, marshalling or spectating, there's something for everyone. Apart from fantastic viewing areas for the spectators with live commentary there's also fly by's including an RAF Tornado which starts the rally on Saturday morning to the Lancaster which ends the event on Sunday afternoon. In amongst the service areas there are also static displays to amuse the young and old. A BBQ is laid on for Friday night's scrutineering and a party on Saturday evening so the marshals and crews can chat about the heroics of the day over a drink and the hog roast and maybe spend some money in the auction for the Richard Burns Foundation.
With the flat lands of Norfolk being notorious for rain (with no warning) always makes tyre choice a nightmare. Into the first stage then with inters on seeded at 5, start the stage in 3rd and finish the stage 1st. This happened because cars 1 and 3 who started before us both punctured and had to stop and change due to the RAF not allowing you to run on a flat so not to damage the runways. Sixth fastest was a good start as we had not had a chance to resolve the flat-shift and water injection issues from the last event. However the car was not handling very well in the slower and tighter parts of the stage with the rear of the Corolla acting more like a gravel car, and the front under steering. In Service, we had time to bleed the brakes and clutch and make some small adjustments to the suspension but noticed the front right was a bit loose, possibly a bearing but we had no time to change so headed off to Stage 2. The front wheel held okay but our luck run out half way around the stage when we also punctured and had to stop and change the off side rear .............This was a new experience for Gary and I, it's something neither of us has ever had to do before! The wheel change itself went pretty well but we then lost another minute or so getting back in the car because you must be buckled back up before you set off again, (not easy when you're exhausted). This was not helped when Gary couldn't get his intercom re-connected and with still 7 miles to go we didn't want to lean on the rear corner and chance another puncture. We lost around six minutes and ended the stage in 68th overall.
With the front wheel bearing replaced in service we put in a good time for stage 3 with the under steer now cured, however the rear was still loose so some more tweaks were made for stage 4. This the last stage of day was good with the improvements we had done and even got away with another puncture when we hit a pot hole at speed which broke the wheel but thankfully the tyre stayed up.
With day two being reseeded we had clawed back 22 positions in two stages and were lying 46th overnight, so day two was going to be interesting!! Sunday was dry so the plan was to press on and try and get the car handling properly. We had sorted out the high speed handling so needed to concentrate on the low speed. The two morning stages at 12 miles each we recorded 4th and 3rd fastest times, looks like our adjustments had worked, and not bad considering we overtake 11 cars to achieve this. SS7 was not so good as the tyres were getting very worn and the brakes were suffering with the long stages. Our charge up the leader board was hampered then when this stage was abandoned due to an accident.
In service we went back to our previous settings to conserve the tyres and this seemed to work very well as we posted 2nd fastest time on the final stage and ended the event in 14th. Although not the best result we left happy with the advances we have made and are looking forward to our next event over the Epynt ranges in a fortnights time, and hopefully we can resolve the other issues and have the car up to full power.
Paul Hollingham
--------------------------------------------------------------------------------
31st July 2010 - Fat Albert Stages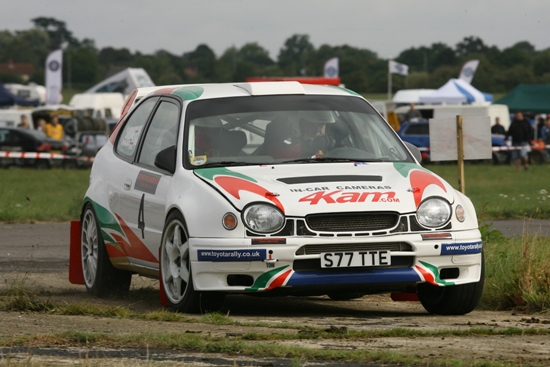 photo by EDP Photography
Organisers: Tavern Motor Club
Venue: Keevil
Competitors: 90
Stages: 10 Stage Mileage: 80
Overall position: Retired
COROLLA DEBUT
The start of the week was spent with some final 'Running in' procedures but the car felt too hard for Gary's liking so some softer springs were fitted. Then Wednesday having the car aligned and set up at Dave Appleby Engineering after which Gary felt much happier with the way it felt.
Myself and Andrew arrived on Thursday to assist in final preparations for the weekend and my first chance to ride in the car.
After spending the day calibrating the fuel levels with the trip, fitting the intercoms and adjusting belts amongst other jobs, we managed a few more road miles for Gary to try and get used to the sequential gear change and being left hand drive. This was more important as the flat shift was not working properly and we were awaiting a new gearbox control box which hopefully would arrive in the morning to allow us to refit and use on our test session booked for Friday afternoon at Llandow Circuit.
Friday morning was mainly spent packing the service van and sorting tyres, putting on decals and awaiting the new control box, but as this hadn't arrived by 2pm we made the decision to cancel our trip to Llandow as logistically we couldn't get from Somerset to Cardiff – test and then back over to Keevil all by 6.30pm! So an alternative location was found nearby at Westonzoyland and although it was only big enough to get up to 3rd gear it was a great opportunity for Gary to try out starts and see how the car braked and turned. We set up a small loop of corners and a chicane using road cones and had a very successful hour spent seeing what the car would do.We then headed off to Keevil and as the car had not long been Log Booked we had no real dramas at scrutineering so headed back home ready for the car's debut the following morning.
Over night rain had left the airfield damp in the morning and we probably could have used slicks for the first stages, but decided to be cautious with our first time out and use some very soft intermediates. Into the first stage then, off the line well, 200 to a square left onto a narrow lane, 40 'K' right over a nasty bump, 100 down to a handbrake hairpin right through gates. Approaching nicely knocking down the gears into first, apply handbrake but not enough revs and the electronics cut the engine !! Hit the starter but she wouldn't fire back up, struggled to select neutral and try again and finally after nearly 30 seconds it fired into life and off we went. Not the start we were hoping for! Another stall again later in stage which cost a few more seconds but at least the car restarted straight away this time.
Into service with relief that at least we had finished the first stage in one piece, we had thirty minutes to try and work out what was going on. We think the stall was due to the flat shift problem and Gary was going to have to learn to drive around the problem, be brave and give it more revs when hand braking. Other apparent problems were that the car was under steering badly, we think possibly down to the tyres, so we changed to medium compound slicks and reset the front roll bar to a harder setting.
Stage 2 was a repeat of the first 7 miler and we emerged smiling, the adjustments at service had really improved the handling and as the miles ticked away Gary was growing in confidence all the time. We were 55 seconds quicker !!! We bled the brakes in service as we felt they were a bit soft and adjusted the bias slightly, and headed for stage 3. Not a bad time but the car was sliding around a bit so decided to change the front tyres for another pair of part worn Pirelli's. Again this was a repeat stage, but Gary was now experimenting with pushing the car to see what it would do and after shall we say 'a lively stage!', we went 6 secondss quicker.
My job was also to monitor fuel consumption as well as watch water and oil temperatures, which went a bit higher for some unknown reason on that stage. I had also noticed that the water level was not dropping. We were concerned that the water injection or spray was not working, so a quick phone call to the people that know confirmed this was okay as we were not using the anti-lag system.
Gary now wanted to see what it was really like, so he decided it was time to bolt on some brand new BF Goodridge's and push the brake balance further forward to see how far we could brake into corners and chicanes. We clocked a very good stage time of 8.46 for this 8 mile stage and emerged very happy with the progress we had made.
Two of our service crew had been monitoring the noise levels and reckoned we were one of the quieter cars, especially over the escorts and the three wrc Suburu's that were popping and banging on gear changes. So for the next stage we decided to use phase 1 of the FAS unit. This allows the water injection to work and therefore gives more power but isn't as aggressive or noisy as phase 2 or 3 which we certainly couldn't use at Keevil with the noise limits. We really enjoyed this stage, probably our best so far; it transformed the car as it wasn't now being 'held back' and the Corolla was happier being driven this way. We went 16 seconds faster on this repeat stage!
Unfortunately on the stop line with the clutch fully down the car was creeping forward, and I had to jump out at the passage control so Gary didn't need to stop. He went straight into service and luckily we had 45 minutes to try and rectify the problem. We could only make adjustments to the clutch and after attempting SS7 it was apparent we were not going to go any further, so decided to retire rather than risk any more damage.
After our bad start that left us in 24th position we had steadily improved and were currently lying in 6th when we pulled out.
Overall we had a mixed day and were expecting teething problems, but left happy in the knowledge of doing 50 stage miles and had learnt an awful lot about the car and the whole Team is excited about the next event Richard Burns Memorial Rally in two weeks time.
Paul Hollingham
---------------------------------------------------------------------------------
29th May 2010 - Co-OrdSport Stages
Organisers: Enthusiasts Motor Club of Stonehouse (Emcos)
Venue: Down Ampney, Gloucestershire
Competitors: 65
Stages: 10 Stage
The team was hoping to use this event as a shake down for their new Corolla, but sadly news filtered through from Holland that the car was not going to be ready in time.
Rather than pull the entry it was decided to dust off the Celica and use it once again. This decision was made to get back out rallying again after a six month break, especially after having just received exciting news that the team had been invited once again to compete in this years Festival of Speed at Goodwood.
Whilst preparing the Celica for the rally it was found to have some play in the rear wheel bearings, so some last minute preparation was needed including the fitting of a new clutch just to be cautious. The car was given a good road test on the eve of the event and this put paid to any worries and the car felt good.
Saturday morning started early, leaving the hotel at 6am we headed straight to scrutineering which was completed with no problems. We then set up our service area and awaited the 8:50am start with only our tyre choice to be made.
Light rain had been falling and although the conditions were wet it wasn't that heavy. I suggested to Gary that we went on inters, but that was quickly over ruled as he wanted to take the safe option of going out on full wets!
Into the first stage and with the venue being mainly concrete and extremely slippery, it was soon realised that Gary's choice was spot on as we emerged seven seconds clear of the field.
SS2 was even wetter as the rain fell harder, but with the knowledge gained earlier our time was 12 seconds quicker than our first run, again setting fastest time by four seconds over our nearest rival Matthew Green in his Subaru Impreza. Third place was last year's runner up Ben and Alice Williams in their Mitsubishi another 27 seconds behind.
Off the line on stage 3 the Celica developed a loud knocking noise, a driveshaft, or diff maybe ? We weren't sure so took the first part of the stage quite cautiously and to our surprise we were still quickest by 11 seconds doubling our advantage in one stage.
But our dreams of a 4th straight victory were soon dashed as the service crew diagnosed the problem to be the gearbox. ( drop gear missing a tooth ) , so the decision was made to retire rather than risk doing further damage.
Congratulations to Matthew and Louise who continued were we left of to take a well deserved victory by 40 seconds over Eric Weaver's Darrian.
We shall have to return next year and try to regain our crown !
Report by co-driver Paul Hollingham
---------------------------------------------------------------------------------
22nd November - Carfax Stage Rally
Organisers: Oxford Motor Club
Venue: Longcross Vehicle Test Track, Surrey
Competitors: 70
Stages: 10 Stage Mileage: 55
Overall position: 4th
CARFAX CHAOS
When the Finals arrived we were shocked to see that we were heading the field at Number 1!
This rally is always very demanding and challenging in the wintry conditions and with the last two stages run in darkness, this year was to be no exception!
The organisers had decided not to honour last years winner with the top spot, so Richard Edwards was seeded at 3, with Simon Gudgeons 6R4 between us. Mark Ellis's (Subaru) at 4, Rob Dennis (Escort) at 5, and then Guy Wigley back in his old 306 Maxi. A late entry by Tim Wilson in a brand new Escort left us one short in the Service Crew as Andrew was called up for navigational duties.
With us running first car on the road it meant a cautious start tip toeing through the leaves on the infamous snake section and although the outside perimeter roads were damp, the infield area was extremely wet with lots of standing water.
Tyre choice would then be critical and would play a major factor in the result of this event, so we opted for a soft compound with cuts, whilst others chose inters or full wets. To be honest, I don't think there was a correct choice!!
Perhaps they should have put Edwards at one because he and Ellis set equal fastest time on SS1. Gudgeon, Wigley and Wilson all 5 seconds behind with us another second slower in 6th.
A dry line now on SS2 saw Edwards again quicker, but Tim Wilson got over excited bouncing his new toy over one of the bus stop chicanes, getting a tank slapper and then hitting a kerb breaking the front left strut and steering so they limped out of stage taking a maximum.
Service was hectic for the Escort crew but they managed to straighten the components and sent Tim and Andrew back on their way.
Although just starting to spit with rain we stayed on the same rubber, however once we'd booked into the arrival control for SS3 a 20 minute delay saw the venue being hit by a mini typhoon. The deluge would be our downfall, clearly on the wrong tyres we lost 18 seconds. Edwards once again took a big advantage being 10 quicker than everyone else.
We didn't hesitate to bolt on the 'wets' for SS4 and we went 27 seconds quicker as a result ! Gudgeon was quickest this time, taking 6 back from Edwards.
Wilson completed the stage but decided the earlier damage too dangerous to continue and retired. This meant Andrew could now revert back to servicing the Toyota.
The organisers were having troubles with their timing equipment on SS2 and SS3 in the atrocious weather conditions and as a result co-drivers were busy trying to sort out who was where on the leader board.
The weather would once again play another big role in this event, it was still raining when we left the Service area, staying on wets we headed for SS5 only to find history repeating itself. Another delay this time longer saw the sun break out and the wind blowing the stage dry, more time lost. This stage saw Ellis quickest 10 faster then Edwards and Gudgeon, with us 9 Behind. At only the half way point we were realistically too far behind the leaders who were now only 14 seconds apart. Our only hope would be they would hit trouble.
SS6 and now on the correct rubber we set a competitive time, Gudgeon now quickest in the dryer conditions, as Edwards had indeed hit trouble with a bent strut, although this didn't seem to slow him much.
SS7 also saw us happy to be on the pace and Gudgeon once again being fastest saw the Metro man take a slender 1 second lead
Because of the lost time earlier, the organisers took the decision to cancel Stage 8 and set up for the two finals stages, a pair of 3.5 milers set to be run in darkness. With the light-pod on the Celica for SS9 we set 3rd fastest time of 2.43 minutes, however this rally would throw up another twist!! The bogey time was set at 2.48 so we, along with the top 2 all beating the bogey time Gudgeon retained his 1 second lead. Unfortunately this spoilt the fight a little, as long as the bogey was beaten again, Edwards nursing his suspension had no chance of taking the win.
We actually set fastest time on the final stage but this was a just a small conciliation prize for a hard day's rallying although 4th overall and second in class is still a great result.
Well done to Simon Gudgeon and Ashley Trimble for taking the win and commiserations to Richard Edwards.
Thanks again to all who helped on the day, especially Rob and Bill having to service in such terrible conditions.
Report by co-driver Paul Hollingham
---------------------------------------------------------------------------------
25th October - UTS Cheviot Rally 2009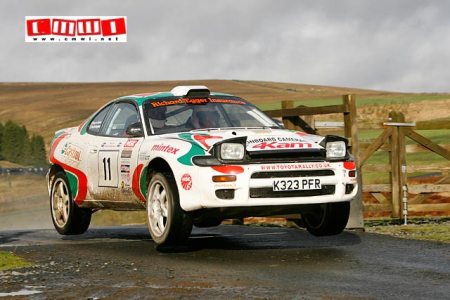 photo by CMWI Photography
Joint Organisers: Whickham & District M C and Hadrian Motor Club
Venue: Otterburn Milatary Ranges
Competitors: 81
Stages: 12 Stage Mileage: 102 Road Mileage: 90
Overall position: 14th
With no chance of winning the BTRDA championship and only an outside chance of finishing on the podium, we went to Otterburn to gain more experience of the ranges in readiness for next season.
Saturday morning was spent doing some last minute changes to the Toyota, then onto the recce. The weather had closed in overnight which made it very difficult to check the notes in fog making it almost impossible to see any distance. Fortunately it was only on the high hill tops that it was causing a problem and for the most visibility was okay. We finished the recce feeling confident with our notes and were looking forward to the following day's event although a little apprehensive as Gary had started to go down with a bad flu type virus.
On the morning of the event he was feeling less than fine and with the weather only slightly better than the previous day, we set off to do our first loop of stages a little under 18 miles. In damp conditions a good tyre choice was made and we were making good progress until the heat from inside the car along with the heater to demist the windscreen made Gary feel very unwell.
By the end of the first loop it was uncertain whether we would actually carry on but after an emergency dash from the service crew to locate some cough mixture we soldiered on. With a driver coughing his way round every bend and co-driver repeating every command, surprisingly we were actually making good, safe progress.
The afternoon loops were very long and demanding, each containing 4 stages totalling 30 miles, with similar road mileage it was tough on even the fittest crews.
We did make the finish at 14th overall, and had succeeded in our task of gaining more knowledge, but felt a top ten would have been possible.
Paul Hollingham
---------------------------------------------------------------------------------
29th September 2009 - Patriot Stages Rally
Organisers: Forresters Car Club
Venue: Caerwent
Competitors: 100
Stages: 7 Stage Mileage: 70
Overall position: Retired
TO FINISH FIRST, FIRST YOU HAVE TO FINISH
How true that statement is.
After our win last weekend the whole team was excited about the penultimate round of the BTRDA championship, the Patriot Stages held at Caerwent.
Extremely demanding venue, with seven 10 mile stages held entirely around the military base. Lots of kerbs to catch out the unwary and an awful lot of junctions joined by short straights means it's very tough on car and crew.
Stage 1 started badly, we arrived at the first junction just 150m from the start, popped the Celica into 1st and bang, there's goes the drive shaft (or so we thought).
The Toyota was making horrible noises but didn't seem to slow our progress.
Then on only the 5th corner we arrived at a square left that tightened up a bit and maybe still on cold tyres the back slid wide and we clobbered the rear off side wheel very hard into a kerb, the tyre thankfully stayed up but unbeknown to us had badly buckled the wheel but again didn't affect our pace.
Now this is where I would normally get out my co drivers book of 101 excuses and blame the driver, but have to say that I over cautioned a square right into immediate junction right. Gary followed my exact instructions but turned too early into an entrance way that wasn't shown on the map. (Apparently we weren't the only ones to do this). We struggled to find reversed so instead drove forward into the yard, spun it round and out we came losing around 20 seconds.
This wasn't the start we had planned on, but to our surprise we had set 6th fastest time, equalling championship rivals Adrian Spencer and only losing 15 to Mark Welch, both of which we needed to be ahead to keep our championship alive.
Into service and some head scratching to find out what was making the noise, it was soon apparent that it wasn't the drive shaft but probably knocked a tooth off first gear.
We changed the drive shaft as precaution anyway and headed of to stage 2 with a plan of not using first gear, but truthfully expected not to make it through the next 10 mile stage, and all those junctions in 2nd!
We did make it through that stage and in a good time as well, moving up to 5th overall beating Spencer by 13 seconds, but lost another 4 to Welch. However we were now confident that the gearbox would last and we could push a bit in the next stage and keep the pressure on Mark.
Stage three was going really well, Gary was learning to adapt his driving style to get the most out of the Toyota without using 1st gear, but after about 8 miles on a square right junction I watched our front left wheel disappear across a field and into the undergrowth, the Celica came to an ungraceful stop with the front side of the car now dragging on the ground.
A failed front hub was the cause, and a very disappointed end to our rally and championship.
Paul Hollingham
---------------------------------------------------------------------------------
20th September 2009 - WINNERS - Anniversary Stages
Organisers: Bexley Light Car Club
Venue: Longcross Vehicle Test Track, Surrey
Competitors: 52
Stages: 8 Stage Mileage: 50
Overall position: 1st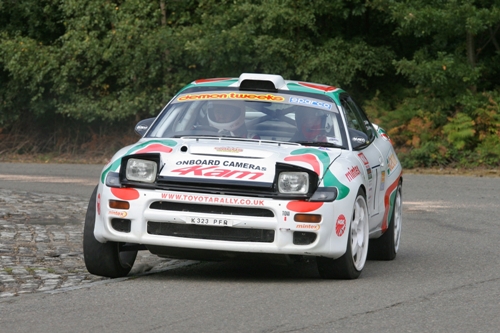 Photo by Andy Manston
HAPPY ANNIVERSARY
After all the woes during the build up to this event it was always going to be a tough day! I think everyone involved in getting the Toyota ready was feeling the strain, not only because of the early starts, and very long evenings, but just the general uncertainty of it all.
To cut a long story short if you haven't heard the full version a crack in the block was found late last week, and then the search for a new block was only confirmed on Tuesday.
Wednesday the block was being bored, and work building the new engine finally started on Thursday. Friday after waiting for delivery of head bolts saw Gary and Penny driving to Milton Keynes to collect the lost package from the TNT depot. Then a drive back to Towcester to continue the final build, and eventually returning home at 1am Saturday morning.
Back up again at 7.30 to start putting the engine and ancillaries back into the Celica. With help from Rob King the 185 fired into life late afternoon and after a short test and running in session, it was loaded onto the trailer ready for a 5am start to make Longcross on Sunday morning.
Fortunately all the above did go smoothly and everyone met up at the gate as planned at 7.30.
So onto the stages, Bexley Light Car Club had 8 stages lined up for us all around 6 miles, either with one or two split junctions to vary the layout, and to keep both driver and navigator busy.
Being seeded at number one in honour of winning the event the previous year you can imagine how much pressure was on us as we sat on the start line.
With the uncertainty of what lay ahead, would the engine last under full rally speed etc.???
SS 1 went extremely well, Gary was letting off some steam, whilst being careful not to over rev the engine, which was pulling very nicely. With being a little cautious at the first split because the entry was on a blind crest and you had to be on the correct side of the road beforehand, we were very pleased with posting fastest time by 3 seconds.
We did however realise that our fellow competitors would go a lot quicker on the second stage which was a repeat of the first. Simon Mauger was the quickest taking 5 back form us, now taking the lead. Simon was debuting his brand new MK2 Escort but with a 2.5 Millington engine borrowed from Tim Wilson which produces 330 bhp now mated with a 6 speed sequential box, it was always going to be quick.
Next up was Mark Ellis in a Subaru who pushed us hard last time we met, was a further 14 seconds, with previous Longcross winner Richard Edwards in another MK2 only 3 behind.
Mauger then hit trouble with a clutch problem and struggled off the line of stage 4, losing 30 odd seconds, however we were not entirely happy with the handling or tyre wear. We changed some setting and swapped the rubber from front to back, whilst Mauger fixed his problem. We had now gone form a 13 second deficit to a 28 second lead.
The afternoon stages were reversed and with the Toyota now behaving itself we pushed hard, having a half spin on some oil in the snake, and with Mauger now on a mission he clawed back 9 seconds and put himself back into 2 nd position.
So we tried even harder on SS6 and our efforts were rewarded with another fastest stage time taking one from Mauger, and half a dozen off Edwards and Ellis who were battling hard for 3 rd spot.
The lost time was due to Mauger having suspension problems which wasn't rectified until next service but was now out to prove to the world how fast he could go, the answer.... Very fast! Going into the last stage we had a slender 4 second lead but Mauger swallowed the up and had won the rally by 12 seconds.
But had he !!! With his earlier problems he had booked out of service 3 minutes late so he was given 30 second road penalties handing victory back to us.
We had entered this event to make sure we had cured the overheating problems, from discovering the cracked block, having to find another and then rebuild the engine, shoe horn it back into the car all before we could turn up and do the event. So, to then come home as winners was a fantastic result.
It's made all the hard work worth while, and the whole Team are looking forward to next weekends Patriot Stages.
Paul Hollingham
---
August 30th - The EventSigns Mewla Rally 2009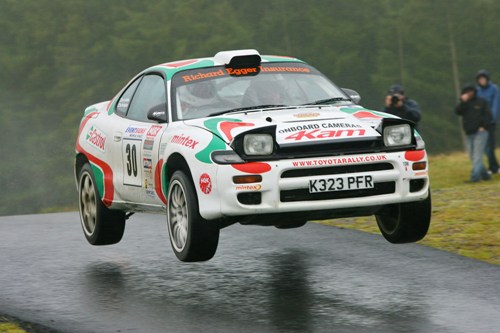 photo by Rally Gallery
Organisers: Epynt Motor Club
Venue: Epynt Sennybridge Ranges
Competitors: 121
Stages: 9 Stage Mileage: 91 Road Mileage: 92
Overall position: 16th
MAKING THE BEST OF A BAD SITUATION !
The event started well with a good Recce, this being only our 5th time over Epynt we were still being cautious but felt we had made some good advances on our notes.
Morning dawned with drizzle and the forecast was looking like it was set for the day and tyre choice would be the key.
SS 1 went well with a good time on inters which worked well in the greasy conditions. Onto SS2 and ready to start when the stage was stopped 4 cars ahead.
Eventually the stage was cancelled and we drove through at slow speeds, of course taking the opportunity to check our notes. It became apparent as we drove past the entrance to SS 1 that, that stage had also been stopped with a separate incident.
We made our way to SS 3 but because the emergency crews were attending two incidents SS 3 was also cancelled, so again we made our way through the eleven miler, and again we checked our notes.
So into service only having done one stage we set off into the second loop which was a repeat of the first three stages.
We arrived at SS 4 to find that the stage had again been stopped with another roll, and again we had to make our way to the next stage.
Because of our seeding ( 30 ) most of the top 20 had got through the stages before the stoppages so we were given notional times for stages 2, 3, and 4. What this meant was that the leader in our championship after 4.5 miles of rallying was one and a half minutes ahead. If that wasn't enough they had all done the stages so had warmed up and on their second runs through all went faster, however we could only match their first times and fell another 30 behind.
The third loop was SS 2 and 3 linked together totalling 15 miles, we stayed with the inters, and although the stages was drying this was still a good choice and a good time matching our rivals.
The afternoon was in the opposite direction and linked all three stages together giving a length of 20 miles.
The weather was again moist so stayed on the same tyres and attacked SS 8 and came out with no problems again matching our rival's times, and had actually taken a handful of seconds of the man in front Mark Welch.
SS 9 was a repeat of 8, at again 20 miles. But was much wetter, staying on the same tyres we attacked the stage in the hope to catch Mark, a tall order but only 1 second a mile was needed.
All was going very well Gary driving the ranges like never before, but 15 miles in the temperatures went sky high, with oil temp at 125 and the water not far behind.
A little off followed at the infamous ' steps ' watching the dials and not the road, no damage but 12 seconds lost spinning, and scrabbling back onto the black stuff, but all this caused was the temperatures to go up, and the inside of the car to steam up.
The decision was to back right off, switch off the anti – lag, and hope this would lower the temperatures. With only 5 miles to go the warning lights were off, but obvious time was lost.
We made our way to the finish ramp at a steady pace, and made the finish.
On first inspection looks like a head gasket failure, so justified backing off, and to our surprise we were only 43 seconds slower than our first run through, considering it was wetter and we went off. What's more was we didn't loose any overalls positions and finishing 16th overall which is a great result having to make the best of the lost time with those earlier cancelled stages.
Paul Hollingham
---------------------------------------------------------------------------------
June 19th/20th 2009 - The Rally of the Midlands
| | | |
| --- | --- | --- |
| | | |
| | | Photos by Rally Gallery |
Organisers: Streetly Motor Club
Venue: Bramcote Barracks, Merevale, MIRA, Mallory Park, Argents Mead,
Competitors: 100
Stages: 19 Mileage: 90
Overall position: Retired
You Win Some and Lose Some!
Well, as the title suggests things don't always go quite as planned!
We set off from Somerset Friday morning to Hinkley with the Celica proudly displaying No1 on the doors for what was always going to be one of our biggest battles trying to return home with top BTRDA honours.
The ceremonial start was in Nuneaton and after the Carnival Queen got us underway we were raring to go and ready for action!
The first stage at Bramcote Barracks was very slippery with some unfriendly and tight chicanes and with us being the first car through we hopefully gave the spectators something interesting to watch!
Then SS2 was a repeat of SS1 and on our second run through (and after a few adjustments to the pace notes) we went ten seconds quicker setting equal fastest stage time. We then headed off to the town centre stage at Argents Mead where the organisers are trying to 'bring rallying to the people'. For the previous two years Gary and Paul have set the fastest times on all four runs through this stage. Well they didn't disappoint and improved on their quickest stage time by two seconds and managed to beat the Bogie by one second.
This put them in 2nd place one second behind the rally leader Chris Jones. Unfortunately had the bogie time been lower they would have been level with the leader.
So, things were going well and the car headed off to Mallory Park to complete SS4 and that's when it all went wrong!
They sat on the Start Line, revved the engine, green light, off they went and ……….....Bang! Gary immediately pulled over onto the grass verge (total distance travelled 10 yards) closely followed by a section of the carbon propshaft. The sad reality of the situation was that they were out of the rally and then had to watch all their fellow competitors complete the stage before being allowed to recover the car.
As far as the BTRDA Championship stood, this was disastrous as we really needed to score maximum points at this event. So we spent half of Friday night debating whether to continue with the remaining rounds or try something new e.g. Ireland! But it's strange how things can be turned around so quickly, as on Saturday when we went back to the fateful Mallory Park to spectate we witnessed the current BTRDA leader have differential failure. Well that certainly changed things and put the cat amongst the pigeons (and having not quite booked the ferry tickets to Ireland), we are still in with a chance and back on course for Mewla National Rally in August.
Hopefully we'll have better luck next time!
--------------------------------------------------------------------------------------------
May 23rd 2009 - Emcos Stage Rally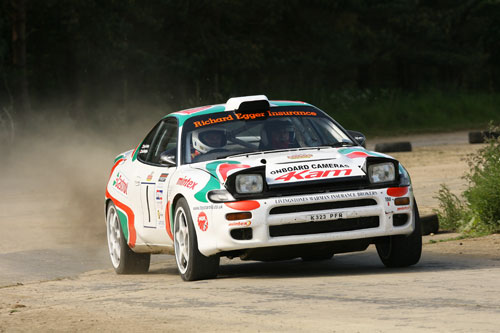 Organisers: Enthusiasts Motor Club of Stonehouse
Venue: Down Ampney , Glousestershire
Competitors: 80
Stages: 10 Mileage: 55
Overall position: 1st
IT'S A HATRICK!
As the title suggests Team Toyota Rally scored its third victory at Down Ampney this weekend. This was our most successful win to date as we set fastest times on all of the ten stages.
The organising club EMCOS put on a really good rally making small changes to previous years that were both challenging and demanding on the crews incorporating varied corners, chicanes, and long bumpy straights.
The whole Team was still buzzing from our recent success winning the Ellisport Stages at Longcross two weeks ago, so we were all looking forward to the task of taking two wins on the trot!
With the added pressure of the Press in the build up to the event it all started badly at scrutineering when unfortunately the fire extinguisher was set off, and a very worrying time cleaning up the mess followed. Thankfully the Toyota started okay and after a short road test all seemed fine.
The organisers managed to sort us a new extinguisher which we collected on the morning and managed to fit and plumb in before SS1.
With all that out the way we could now concentrate on the job in hand.
Stage One was extremely slippery for us as the venue was very dusty causing the front runners to slide around the 5 mile stage. On the repeated Stage Two with the road surface now a lot cleaner most crews including ourselves completed the stage around 15 - 20 seconds quicker than the first run.
Our only scare was after SS7 when we pulled away from the stop line in first gear, there was a loud clonking noise from the gearbox. We tried the other gears before we got back to service so worked on the theory that we had possible lost a tooth on first gear.
As I hurried around getting the times from our nearest rivals, the crew drained the oil from the gearbox to see what came out, and with fresh oil we set off to SS8 with a 49 second lead, not knowing whether the gearbox would survive the remaining three stages.
We decided that it best not to use first gear at all and with the stages which in some places were very tight it was going to be tough just using the higher gears.
Gary drove his socks off on those last three stages and we were delighted to find that we were still fastest giving us victory by 1 minute 18 seconds.
This event was to be a shake down in preparation for our next rally which is a BTRDA round, but found ourselves having to push hard all day to stay ahead.
Gary and I took our maiden win at Down Ampney two years ago so this third win here is very special to us and we thank the whole Team and our Sponsors for their hard work and input.
Report by Co-Driver Paul Hollingham
---
10/5/09 WINNERS - Ellisport Longcross Stages 2009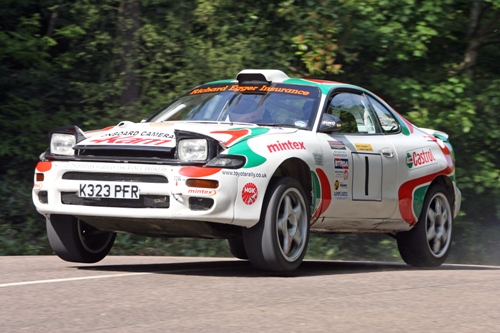 Photo: Rally Gallery
Ellisport Longcross Stage Rally - May 10th 2009
Organisers: Craven Motor Club

Venue: Longcross Vehicle Test Track, Surrey

Competitors: 50

Stages: 8 Mileage: 46

Overall position: 1st
The Team returned home on Sunday after having a great day at Longcross near Chertsey where they took top honours.
The event attracted an entry of fifty crews competing over eight fast and demanding stages. Longcross is known for the infamous 1 in 4 tank ramps (that has caught out many a newcomer to the venue!), but unfortunately due to a film set for the television series Primevil this area was inaccessible for the stage and the top and bottom of the ramps became the new location for the service area. This meant that the organisers Craven Motor Club had a huge task and a lot of work designing new stage layouts for the event.
Gary & Paul have rallyed many times before at this venue but with the new layouts and varied directions throughout the day, both felt that the club had done a good job and thoroughly enjoyed the stages.
The Celica got off to a good start taking the lead on SS1 with a time five seconds faster than anyone else. It soon became clear that the main competition would come from Dennis Marshall in his Metro 6R4 and Richard Edwards in his Mk11 Escort. Going into the afternoon stages only nine seconds separated the Celica from the 6R4 followed by Edwards two seconds behind and then event sponsor Mark Ellis five seconds further adrift.
The afternoon stages were very fast and flowing using a lot of the high speed perimeter road with various splits on different laps. This certainly gave all the co-drivers plenty to do and even the regular Longcross competitors had no time to relax! Unfortunately on SS5 Richard Edwards was forced into retirement with a broken half shaft.
The new stage layouts seem to suit the Celica's recently adjusted suspension set-up and fastest times were set on all the afternoon stages. Going into the final stage a 25 second advantage had been gained over Marshall but sadly he was forced to stop on the last stage with engine problems. This meant that runners up spot went to Mark Ellis in his Subaru and 3 rd place to Dean Thomas in a GTM with the Toyota winning by 55 seconds.
****************************